Note from the Editor: The writer does not claim responsibility for the actions performed prior to this post's creation. She's currently slightly feverish and therefore is not of sound mind. (Yeah, THAT'S why she made what she made.)
* * * * *
It's Day Two of Cold Watch 2009. I haven't gotten any worse, but I haven't gotten any better either. My ability to taste foods is slightly compromised due to the congestion, which might also account for the weird craving I had late last night. I haven't had a cup of hot coffee in three days now because drinking it only makes my throat feel worse (see yesterday's post). I miss my morning cuppa. =( But! I'm doing all that I can to get better ASAP. For instance: It's 82° outside, but I wore leg warmers, pants, a sweater, and scarf to work today to keep my body from experiencing even more chills while I work in my company's frigid office.
Enough about today. Let's talk about what went down at 11:00 p.m. last night. Hunger struck, and it struck hard. I must have been delirious, because I can't recall what thought associations led me to conclude that the obvious and best way to abate the rumbling in my tummy was to make a Krispy Kreme McDonald's chicken sandwich. It's not like I'd ever eaten something like this before! It's not like I ever eat KK or Mickey Ds! Maybe I was thinking about fair food? Or the time Steve and Elicia pureed In 'N' Out in a food processor and served the dip on crackers? I have no idea.
It was, however, totally delicious. But I'm not going to make this a weekly ritual or anything.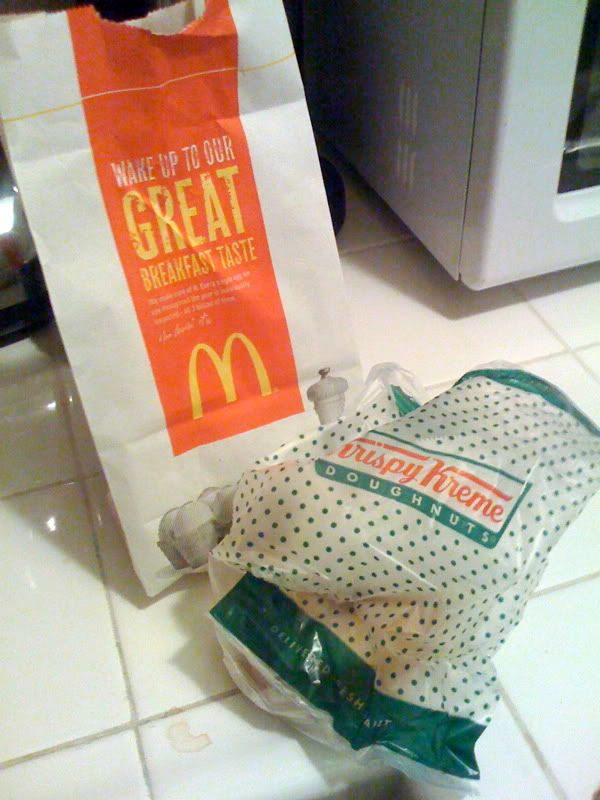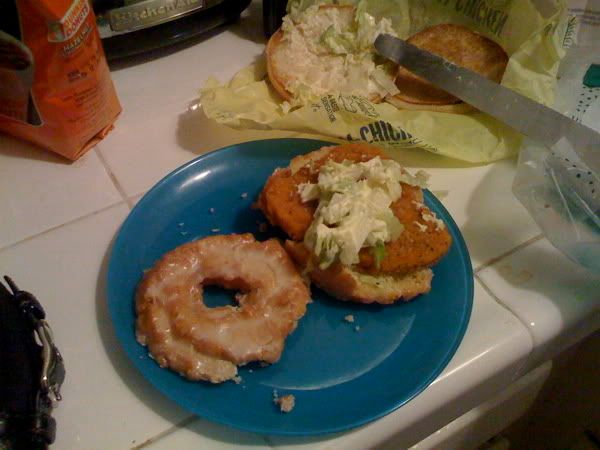 Mr. Dunkin Donuts coffee looks on and feels neglected as I prepare my late night snack.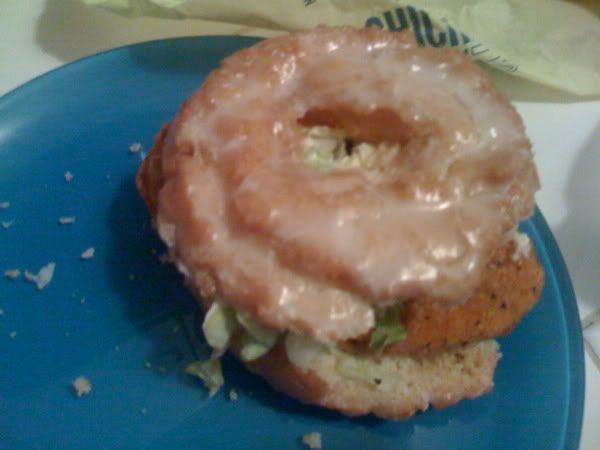 One bite and the whole thing fell to pieces. This was ultimately a good thing, because I didn't go on to finish the sammich. Anything that tasty couldn't possibly be terribly dietetic.