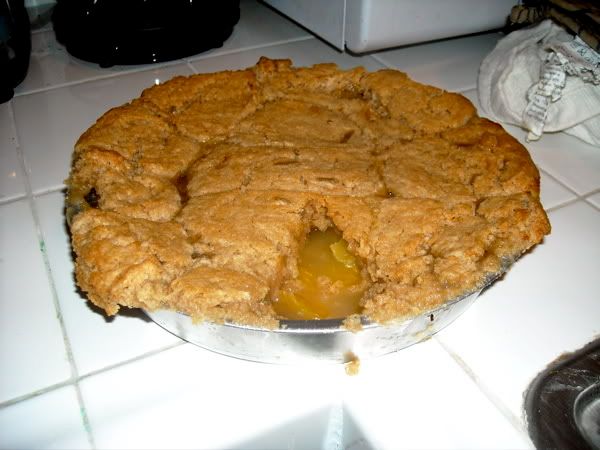 Winter — or what passes for it here in Los Angeles — finally landed in the middle of January. This means that the night temperatures are in the 30s-40s. Now for those of you residing in what I consider to be the frostbite armpit part of the country, I know that any day when the digits are above the teens is considered a _warm_ day. Understand though that we here in sunny Southern California are spoiled, so 32° is, well, freezing.
But I digress.
When the weather starts to get nippy, I start to crave comfort food. Thai curries, chili, oatmeal, bread puddings, glutinous risottos, cobblers — sweet, savory, starchy and heavy. These are the dishes that stick to your ribs (or so my mother told me long ago). Today I was jonesing for cobbler, so to the store I went in search of fresh produce.
I perused the pippins, picked over the pears, and played with plums; ultimately, it was the Chilean peaches that won. Prunus persica happen to be in season right now because it's the middle of summer in the Southern Hemisphere. The going rate for yellow cling is a $1.00 a pound a Vons, so I loaded up a bag with 8 (4 pounds).
Any cobbler fresh from the oven will warm you up. One made with peaches, however, will make you nostalgic for long summer days. Particular to me, my grandparents had a peach tree in their backyard (which later became our backyard when they moved to... the frostbite armpit of the country). Eating peaches is one the ways I "keep" in touch with my Gama and Gandpa.
A few notes about this dish: 1.) A 9" cake pan is not large enough to hold all the ingredients, so there was some cobbly overflow. (As the person responsible for cleaning up the crumbs, I'm not complaining, but the mess did bother my perfectionist sensibilities... somewhat.) 2.) Instead of sprinkling the brown sugar mixture over the rolled out dough, I accidentally mixed it _into_ it. This kept the pinwheels from keeping their respective shapes during the baking process. That aside, this dish is deeelicious (extremely hot, too). I can't wait to serve it tomorrow night when a group of us play nerdy board games!
Biscuits
* 1/2 cup (packed) golden brown sugar
* 3 tablespoons minced crystallized ginger
* 1/2 teaspoon ground cinnamon
* 2 cups all purpose flour
* 3/4 cup sugar (I used Sugar in the Raw because of its texture and caramel color)
* 2 teaspoons baking powder
* 1/2 teaspoon salt
* 1/2 cup (1 stick) chilled unsalted butter, cut into small pieces
* 2/3 cup whipping cream
* 2 teaspoons vanilla extract
* 1 tablespoon butter, melted
Filling
* 1/2 cup sugar
* 1 vanilla bean, coarsely chopped (or use 2 teaspoons vanilla extract — I refuse to pay $12.99 for a single vanilla bean)
* 1 tablespoon all purpose flour
* 4 pounds peaches, peeled, cut into 1/2-inch-thick slices
* 2 teaspoons fresh lemon juice
* Powdered sugar (optional)
How to make:
For biscuits:
Mix first 3 ingredients in medium bowl. Set spiced sugar aside. Mix flour, 3/4 cup sugar, baking powder, and salt in large bowl. Using fingertips, rub in chilled butter until coarse meal forms. Add cream and vanilla; stir until moist clumps form. Gently knead dough on lightly floured surface just until smooth.
Roll out dough on lightly floured surface to 9x15-inch rectangle. Brush with melted butter. Sprinkle with spiced sugar. Starting at 1 long side, roll up dough jelly-roll style. Transfer to baking sheet. Cover log with plastic wrap and refrigerate at least 1 hour and up to 1 day.
For filling:
Preheat oven to 350°F. Blend sugar, vanilla, and flour in processor until vanilla is finely chopped; place in large bowl. Add peaches and lemon juice; toss to coat. Transfer peach mixture to 10-inch-diameter cake pan with 2-inch-high sides. Bake until filling is bubbling, about 30-50 minutes.
Cut dough log crosswise into 1-inch-thick biscuits. Place biscuits atop filling. Bake until biscuits are golden, about 45 minutes. Cool at least 10 minutes. Dust with powdered sugar and serve warm.
* * * * *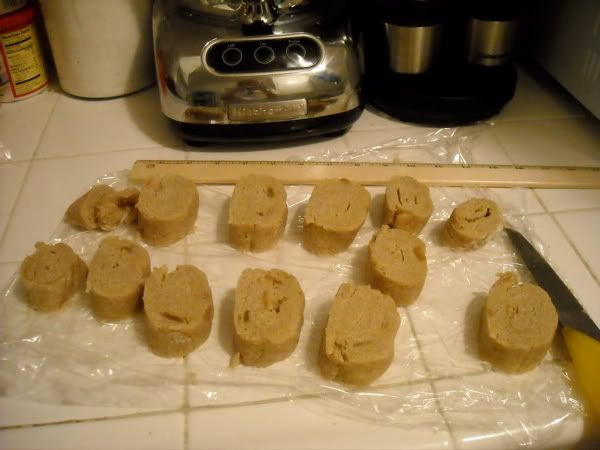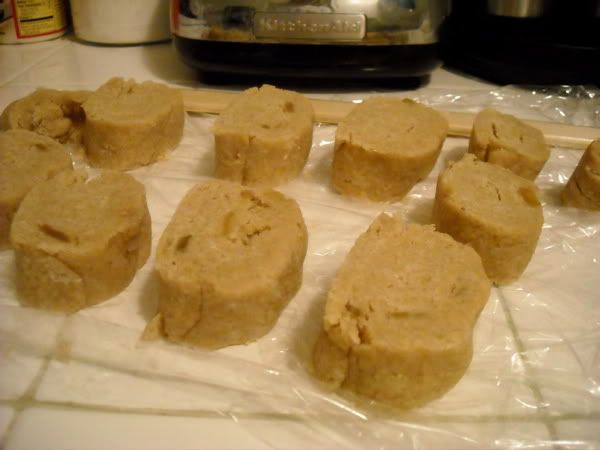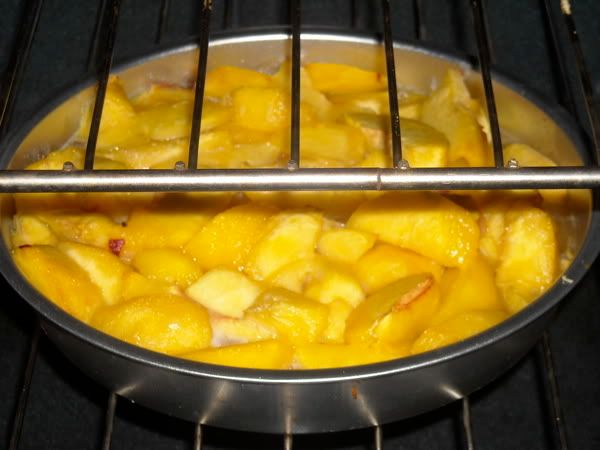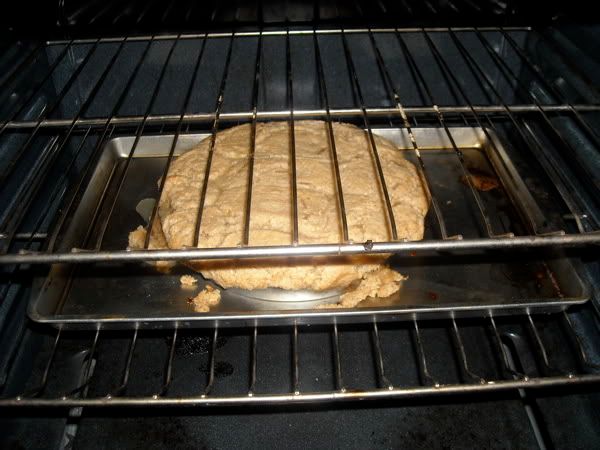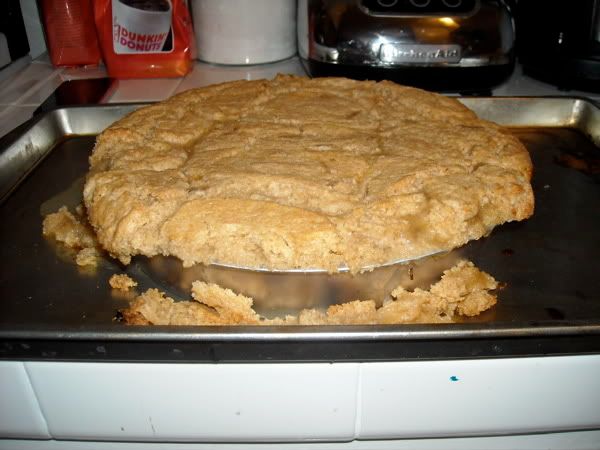 * * * * * *
This video was made last week and announces my plan to film my projects every so often.
* * * * *