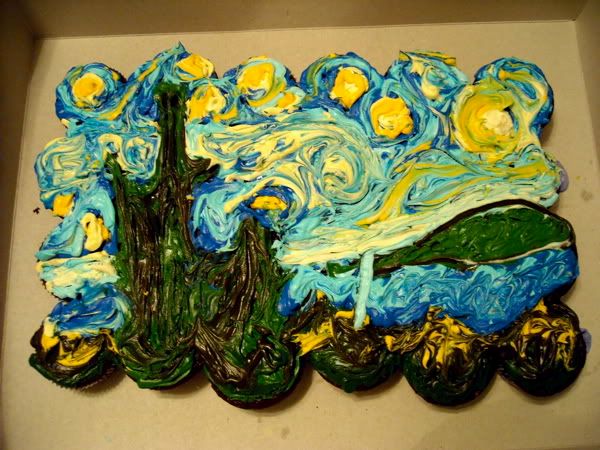 Rose and Or's parties have become somewhat of an institution in my social circle. Birthday gatherings aside, they've probably thrown at least 8 themed parties in the 3 years that I've known them. This past Saturday was their bi-annual Prom Party.
The majority of Rose and Or's energy goes into planning the lavish aesthetics of the event — decorations, costumes, photo backdrops, etc. Constructing something like a zombie graveyard for Halloween can take several weeks, so naturally this leaves them with little time for food preparation and catering. This works to my advantage, as I'll look for any excuse to bake or cook for events. Initially the plan was to bake two dishes, but as usual, I got carried away and made much, much more.
A celestial-looking raspberry almond tart was a no-brainer.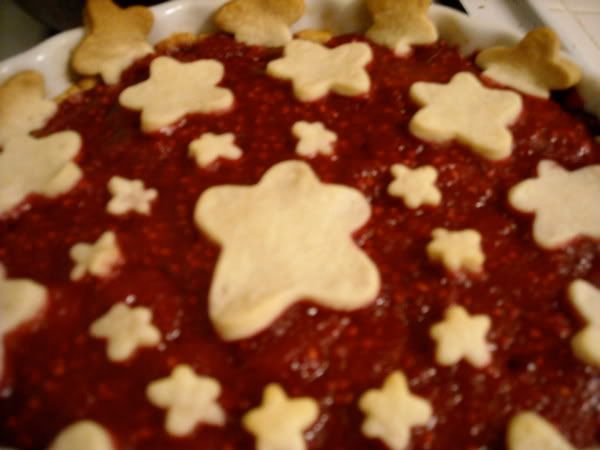 Peanut butter-chocolate chip sandwich cookies with tiramisu-peanut butter filling kind of resemble asteroids or meteors when assembled.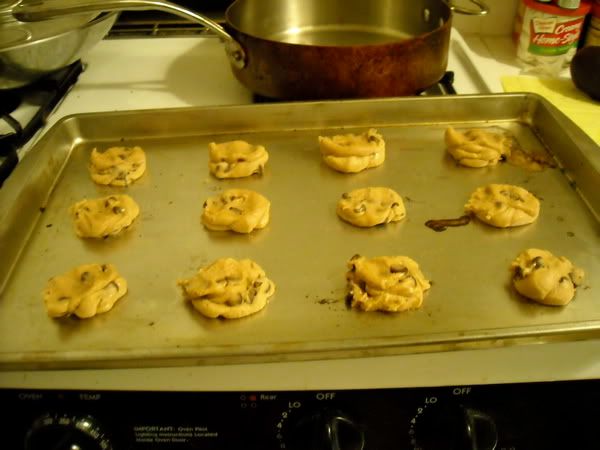 That was to be it. Nothing more. To make even just one more dish would necessitate my needing to block off two evenings for baking. But... one week before prom, The Gabster gave me
Hello, Cupcake
as a belated Christmas present. She couldn't have possibly known this, but I'd wanted that book ever since I first saw it at the Portland Paper Source store in early October 2008. What a wonderful gift! The temptation to thumb through the pages was so strong, I sat in front of her house for a good 10 minutes after we'd said goodbye and gave the cupcake manual a cursory overview. I drove away feeling so very, very inspired.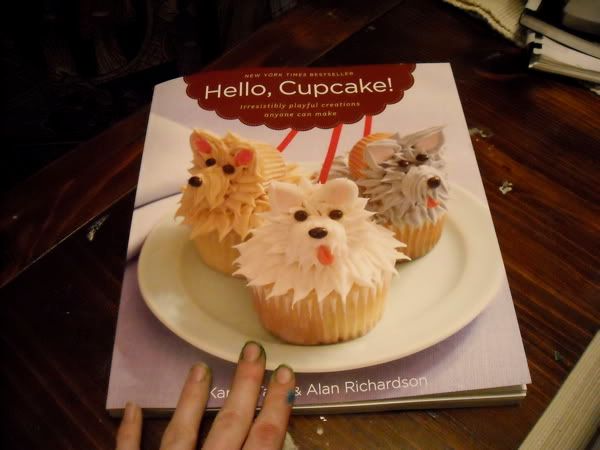 Whoa! What do we have here?
It was on page 41 of the book that I found the ultimate dessert for Or and Rose's party. They called prom "A Night Under the Stars," so a cupcake recreation of van Gogh's "Starry Night" seemed like the perfect addition to what was shaping up to be a perfect evening.

The most labor intensive part of the project was hand mixing the nine colors of frosting for the cupcakes; that by itself took two hours, and stretched the tendons in my right hand beyond mere elasticity. Once the cupcakes cooled and were secured to the cake box using standard Wilton's frosting, piping the actual cake frosting was a simple. An hour after laying down the first squiggle of royal blue icing, I was done.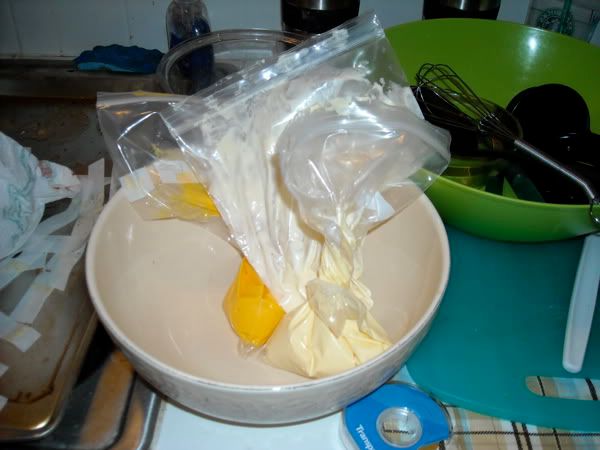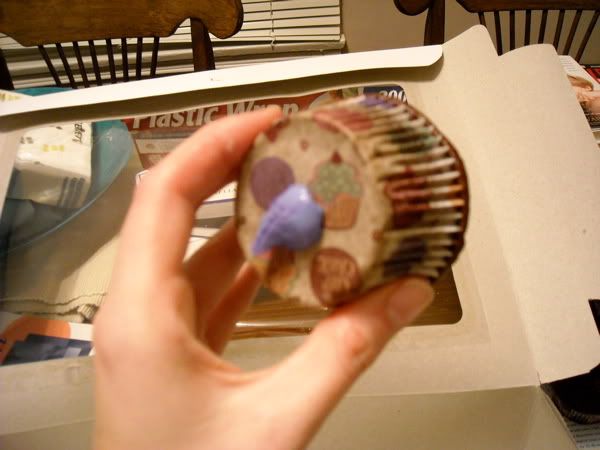 This particular project was a great learning exercise for many reasons: 1.) I learned how to better pipe frosting using standard ziploc bags (i.e., what's the best way to hold the bag, how much plastic should I snip off if I want to make tiny squiggles); 2.) I found a way to put my creative inner critic on mute; and 3.) I now know that it takes 25 dots of blue food coloring to make sky blue (16 if you're looking for Tiffany Blue). Overall, I was pleased with the results (both appearance-wise and taste-wise).

Upon successful completion of Starry Night, I began working on individual toasted coconut cheesecakes with a homemade chai-graham cracker crust.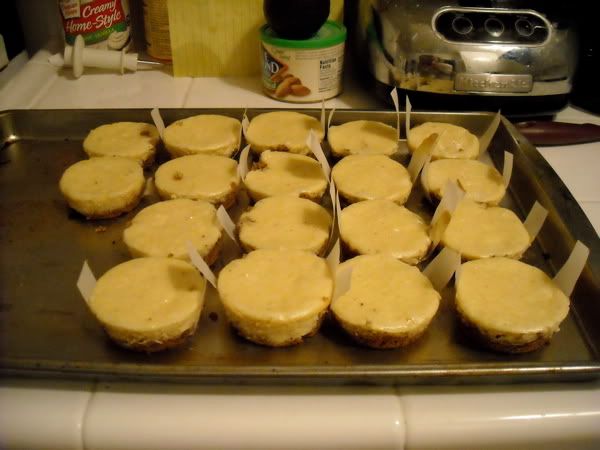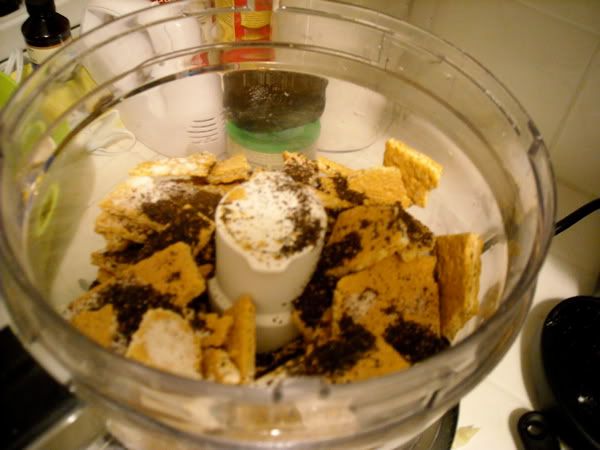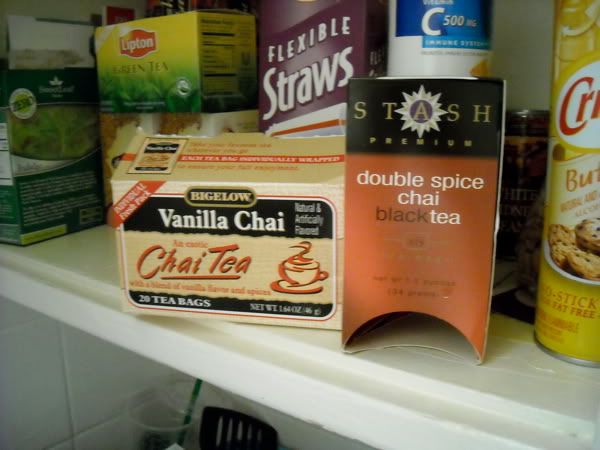 You can make your own chai spice mix, but I guarantee that the flavor won't be nearly as instense as using four bags of chai tea.
I also baked zucchini-ginger cupcakes from scratch and layered ginger cream cheese frosting over them.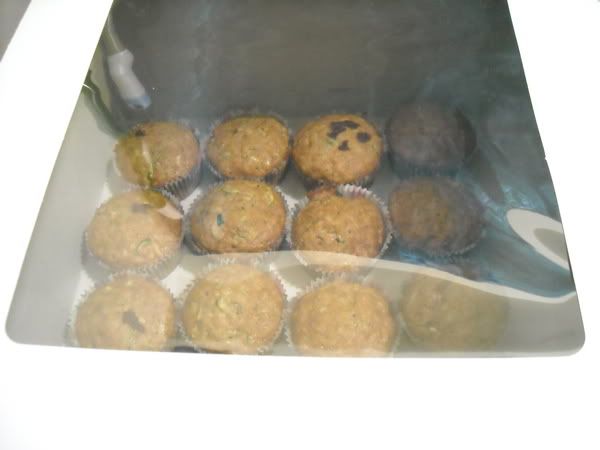 Zucchini-ginger cupcakes, pre-frosting
Based on what was leftover at the end of the evening, I can say with a fair amount of certainty that the cookies, the cheesecakes and Starry Night were all a hit. The plan was to wait until the Prom Queen and King were announced before I broke into the cupcake painting and destroyed it; however, someone beat me to it at around 11:00. Oh well. The raspberry tart was a hit, too; but because of its size, there were leftovers. The zucchini-ginger cupcakes were well-received by the small group of individuals who ate them. Personally I found them to be a bit on the savory side; next time I'll use 1 cup of honey (instead of just 3/4) and use buttermilk instead of extra light virgin olive oil like the recipe called for.