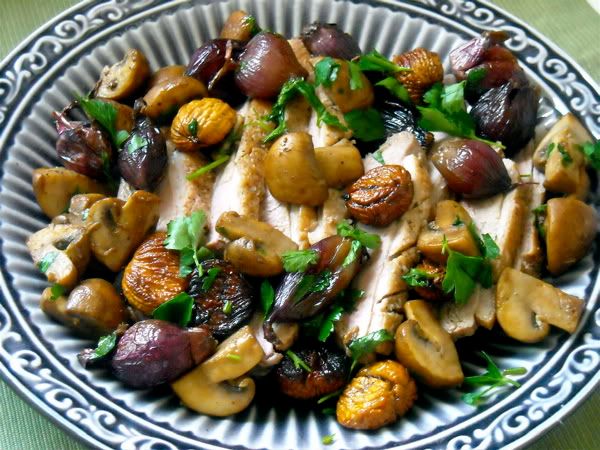 After making such an awful pun, I really ought to duck and cover. I must be quackers. Do you know how many bills this meal cost to make? ... I'll stop. For now.
This meal is another culinary gem straight out of
Olives and Oranges
. A perfect main course for a Sunday afternoon lunch with, oh, I dunno... your mother. (Like I did.)
Duck Breast with Mushrooms, Chestnuts, and Pearl Onions
* 2 1-pound boneless duck breasts, with skin
* Fine seat salt and coarsely ground black pepper
* 8 ounces pearl onions or small cipollini
* 2 tbsp extra-virgin olive oil
* 2 tbsp unsalted butter
* 8 ounces mushrooms, trimmed, large ones cut in half
* 1/2 cup frozen peeled chestnuts (Melissa brand produce sells a pre-cooked variety)
* 1 garlic clove, thinly sliced
* 1/4 cup water
* 1/4 cup chopped flat-leaf parsley
Heat oven to 400°
Score duck skin in a crosshatch pattern with a small sharp knife, and season duck all over with salt and pepper. Place duck, skin side down, in a cast-iron skillet and cook over low heat until fat is rendered and skin is golden and crispy, about 40 minutes. It is crucial that you cook the fowl sloooooowly. Let the juices ooze out of the skin of the breasts; don't rush the process.
While duck is cooking, place onions in a small baking dish, drizzle with oil, and season with salt and pepper. Roast until golden, about 30 minutes. Remove from oven.
When duck skin is golden and fat has rendered, strain and reserve fat. return pan to high heat, return duck breasts to pan, flesh side down, and cook for 3 minutes for medium-rare. Transfer breast to a cutting board and let rest for 10 minutes.
While duck is resting, return skillet to heat. Add butter and 1 tbsp reserved duck fat over high heat. Add mushrooms and 2 pinches of salt; cook, stirring and coating mushrooms with fat, for 2 minutes. Add chestnuts, stir, and cook for 1 minute more. Add garlic, stir, and cook for 2 minutes more to soften. Add water and roasted onions and simmer until onions are heated through and flavors have blended, about 2 minutes more. Remove from heat, add parsley, and season with salt and pepper to taste. Slice duck. Arrange duck on plates, spoon mushroom mixture over, and serve.