A happy early Muffin Day to you!
Since it's St. Patrick's Day, I figured it'd be OK for me to make the muffins a day early, provided the recipe I used complemented
the theme of the feast day.


Black Bottom Guinness Muffins
For Cream Cheese Filling
* 8 ounces cream cheese, room temperature
* 1/3 cup granulated white sugar
* 1 large egg
* 1/2 tsp pure vanilla extract
* 1 tsp green food coloring
For Chocolate Muffins
* 1 1/2 cups all purpose flour
* 1 cup light brown sugar
* 1/3 cup natural unsweetened cocoa powder (not Dutch processed)
* 1/2 cup dark chocolate chunks
* 1 tsp baking soda
* 1/4 tsp salt
* 1 cup Guinness Stout
* 1/3 cup vegetable or nut oil (almond oil, walnut, or safflower oils are best)
* 1 tsp pure vanilla extract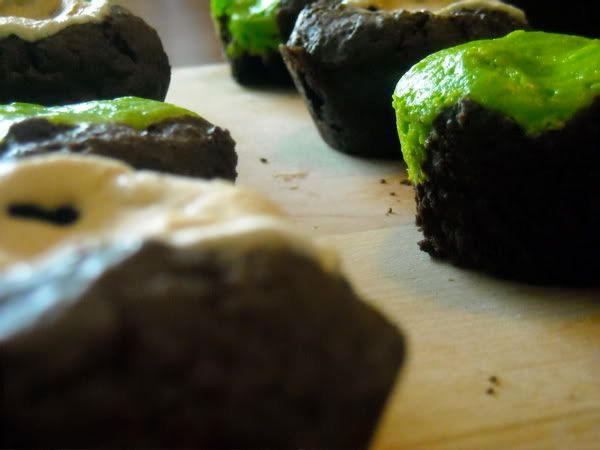 Notes:
- For a dairy-free version, omit the cream cheese mixture and substitute 1/2 of a large marshmallow per muffin (add during the last 10 minutes of baking).
- Double up the ingredients if you want to make 24 muffins, which is what I did.
- I advise you not to bring these muffins to your child's classroom party. Although the alcohol burns off during the baking process, some parent(s) might become uppity and accuse you of promoting underage alcohol consumption.
Preheat oven to 350 degrees F and lightly butter or spray with a non stick vegetable spray, 12 muffin cups.
In your food processor or electric mixer beat the cream cheese until smooth. Add the sugar, egg, food coloring, and vanilla extract and beat until creamy and smooth. Set aside while you make the Chocolate Muffin batter.
First, in a large bowl sift together the flour, sugar, cocoa powder, dark chocolate chunks, baking soda, and salt. In a separate bowl mix the Guinness, oil, vinegar, and vanilla extract. Make a well in the center of the dry ingredients and stir in the wet ingredients until nice and smooth. Evenly divide the batter among the 12 muffin cups. Then spoon a few tablespoons of the cream cheese filling into the center of each muffin.
Bake in the preheated oven for about 25 minutes, or until the cream cheese filling has browned a little bit and the muffins feel springy to the touch (a toothpick inserted into the chocolate part of the muffin will come out clean). Remove from oven and place on a wire rack to cool.