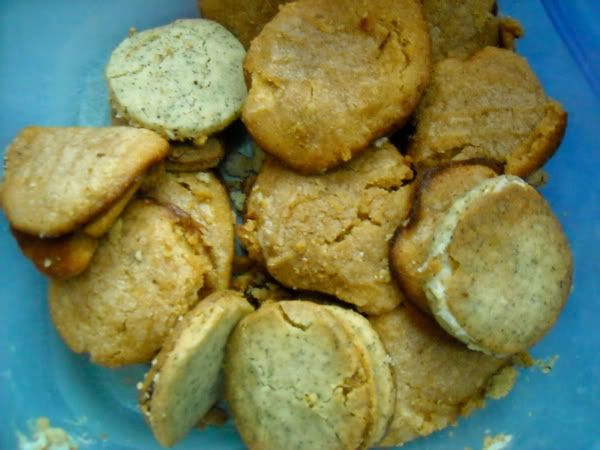 I suppose if I truly wanted to, I could fabricate some story about how the two types of cookies featured in this post — which were originally intended to be served alongside other dishes at a post-wedding Sunday buffet brunch,— were intentionally smushed together so as to fit in with the theme of what it means to join in matrimony. Because really, doesn't a wedding ceremony symbolize the coming together, the union, of two very special, different people? That's kinda what happened to my baked goods — they joined together, although I really wish they hadn't.
Much like how my conscience wouldn't allow me to serve the cookies to the wedding guests at Mr. Professional Nerd's brother's wedding this past weekend, I couldn't bring myself to lie to my audience today. So I'm going to tell you the truth. Despite my best packing efforts, most of the cookies were destroyed during my flight from Los Angeles to Boston on Friday morning. As recently as December I had successfully stowed
10 containers
of various baked goods in my luggage for a similar long haul flight, so I figured I could easily repeat the same packing ritual for the wedding trip and everything would be a-OK. After opening the boxes of cookies and finding them destroyed, it was obvious that I had overlooked a crucial step. It didn't take me long to figure out what I'd done wrong: I hadn't packed enough clothing to insulate the tupperware containers from the baggage handling related-trauma my luggage had obviously endured. Back in December I stuffed two week's worth of attire into my roll-on suitcase; this time, however, I had only packed enough for 3 days. All of the prior trip's clothing prevented the boxes from shifting around inside the luggage, so nary a cookie broke, no muffin turned into a piece of flatbread. The obvious thing to do next time is to pack a lot more clothing. You read correctly.
Everything else wedding-related was amazing, so it's not like the cookie mishap dampened my 3 days in Massachusetts. The ceremony started on time. No vows were forgotten. The rings weren't misplaced. Food was served promptly during the reception that followed. The DJ was really good. Seeing Mr. Professional Nerd in his best man tux caused my heart to flutter in a way similar to the time I accidentally ingested 400 mg of caffeine in one sitting. I can also say with a modest amount of certainty that had the cookies survived the trip, they would have definitely been enjoyed. I know this because of course I sampled them at least twice before packing them up. Please keep that last bit in mind, and please don't let the cookies' apparent unsightliness keep you from trying the recipes detailed below.
Bjorn's Favorite Cookies


For Peanut Butter Cookies
* 1/2 cup unsalted butter, room temperature
* 3/4 cup peanut butter (smooth or crunchy)
* 1/2 cup light brown sugar
* 1/2 cup granulated white sugar
* 2 bananas, mashed
* 1 large egg
* 1 tsp pure vanilla extract
* 1 cup all purpose flour
* 1/2 tsp baking soda
* 1/4 tsp salt
For Peanut Butter Filling
* 6 ounces cream cheese, room temperature
* 1/2 cup melted semi-sweet chocolate
* 1/4 teaspoon pure vanilla extract
* 1/3 cup powdered sugar
Preheat oven to 350 degrees F and place the oven rack in the center of the oven. Line two baking sheets with parchment paper.
In the bowl of your electric mixer, cream the butter, peanut butter, and sugars until light and fluffy (about 2 - 3 minutes). Add the bananas, egg and vanilla extract and beat to combine. In a separate bowl whisk together the flour, baking soda, and salt. Add to the peanut butter mixture and beat until incorporated.
Take about one tablespoon of the batter and place on the prepared baking sheet, leaving about 2 inches between the mounds of cookie dough. Press the dough flat with the back of a fork that has been dipped in granulated white sugar. Bake the cookies for about 10- 12 minutes, or until the cookies are lightly browned around the edges. Cool completely on a wire rack.
In the bowl of your electric mixer, beat the softened cream cheese, melted chocolate, vanilla extract, and sugar until smooth.
Take one peanut butter cookie and spread about 1 tablespoon of the filling on the flat side of the cookie. Top with a second cookie, flat side down, to make a sandwich. If not serving right away, cover and store in the refrigerator. Bring to room temperature before serving.
Early Grey Shortbread Cookies (with two types of filling)
This recipe is an adaptation of the one posted over at
Eat Me, Delicious
. I took the Martha Stewart recommended way of making Earl Grey shortbread and decided to make them sandwich cookies using homemade blueberry cream cheese and marmalade cream cheese filling for the centers. I have a bit of a caffeine addiction as it were, so as soon as I saw the cookie recipe, I immediately decided to make it. (Caffeine has a way of making you impulsive. ;) )
For the Blueberry Cream Cheese Filling
* 1 pint of fresh blueberries
* 1/2 cup powdered sugar
* 3 tbsp of water
* 1 block of cream cheese
Cook the blueberries, powdered sugar and water in a saucepan over medium-high heat until the fruits release their juices and the sauce thickens. Remove from heat and let cool completely. Puree the mixture in a food processor until most of the skins have broken down. Beat the blueberry sauce and cream cheese together until nicely incorporated. Pipe it onto one of the Earl Grey cookies using an ersatz pastry bag, or a real one.
For the Marmalade Cream Cheese Filling
* 1/2 cup orange marmalade
* 1/2 block of cream cheese
Beat together the marmalade and cream cheese until incorporated. It is best that you use a pastry bag to pipe the filling onto the cookies, as the orange peel bits might get stuck in a ziploc bag-turned-pastry bag, which could then explode open if the bag's slit gets clogged.