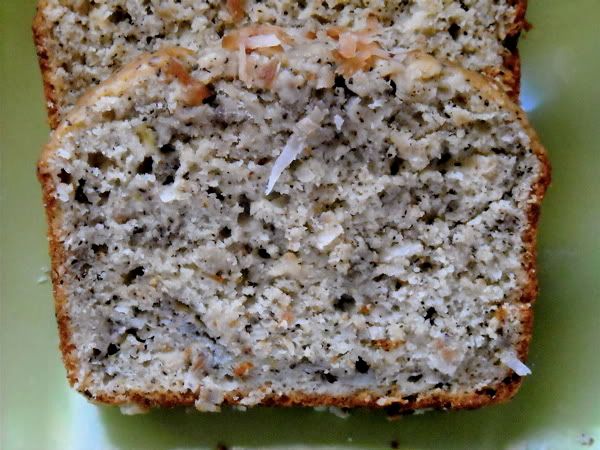 Late Sunday evening, after a few rounds of
Alhambra
had been played, it came to my attention that the bunch of bananas I had purchased 3 days prior had definitely started to turn. This was my own fault, for I had neglected to use them as intended. Not into my morning bowl of Corn Flakes had they gone; instead, they had been slowly browning in the shadows, at the bottom of my baker's rack, next to old cookbooks and back issues of Martha Stewart's "Living." Had I not intervened when I did, they would have gone, along with the remnants of Sunday evening's Thai food from
Chadka
, to the Great Garbage Bin in the sky the following morning.
Chai Banana Bread with Toasted Coconut
* 1 3/4 cups all-purpose flour
* 3/4 cups sugar
* 1 teaspoon baking powder
* 1/4 teaspoon salt
* 1 teaspoon ground cinnamon
* 3 chai tea bags, snipped open (I used Bigelow Vanilla Chai)
* 2 large eggs, lightly beaten
* 1/2 cup unsalted butter, melted and cooled
* 1/2 cup plain yogurt
* 3 large, ripe bananas
* 1/2 cup toasted coconut
Preheat oven to 350 degrees. Grease 9 x 5 x 3 loaf pan. In a large bowl combine the flour, sugar, baking powder, baking soda, salt, cinnamon, and chai tea. Set aside. In a medium-sized bowl combine the mashed bananas, eggs, melted butter, and toasted coconut. With a rubber spatula or wooden spoon, lightly fold the wet ingredients (banana mixture) into the dry ingredients just until combined and the batter is thick and chunky. Don't over-mix. Scrape batter into prepared loaf pan and bake for 55 minutes or until toothpick comes out clean.