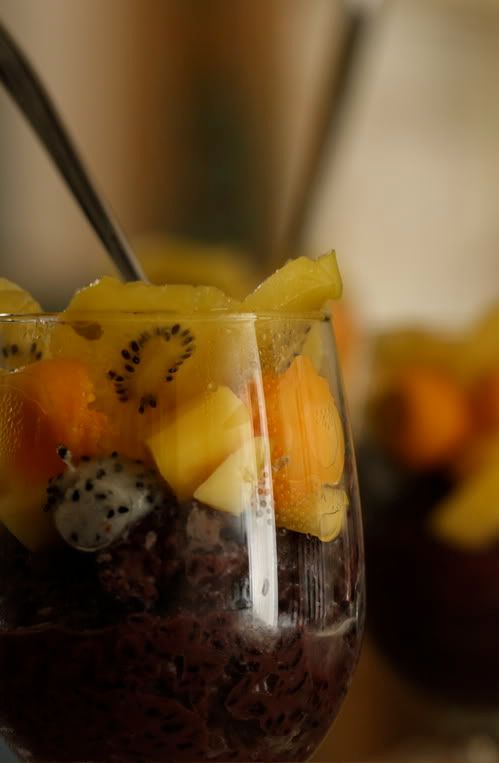 Last Thursday my friends Wendy and Sasha took me to one of Portland's premier Asian food markets, "Fubonn," on NE 82nd Street. It's located in the heart of a mini-mall, surrounded by Asian bakeries and specialty stores. The mall itself reminded me of the Korean marketplace on Western Boulevard in Los Angeles, and the supermarket made me nostalgic for the Chinese grocery store chain
99 Ranch Market
in Los Angeles county. The invitation to join my friends this excursion worked for me, as images of fried whole rock cod stuffed with ginger,
bibimap
and miles of rice noodles, along with other Asian delights, had been coming to me whenever I was running on the treadmill at the gym.
The overall cheapness of everything at Fubonn necessitated some self-restraint to keep me from buying more food than I could reasonable consume (such as 99 cent frozen coconut sticky rice with black beans stuffed in a 12"-long bamboo husks). And then there was the impulse to buy fresh galangal and kaffir lime leaves. These are what make Thai curry
Thai curry
. But I wasn't going to be making Thai curry this Sunday — shortly after laying eyes on the paper-thin strips of round eye steak in the butcher case, I decided I was going to make
Pho
for the first time (from fresh stock).
And then there was dessert.
The order of operations for determining this past Sunday's dinner was a little unusual: I knew what dessert I wanted to serve my guests before I settled on a main course. Serving forbidden rice pudding was one of the images that had come to when I went to the gym last Monday. When I went to Fubonn with Wendy and Sasha, I went there with the intention of acquiring the ingredients for the dessert first, and then worked backward from there to decide on the main course. Dinner's primary purpose was to ramp up to the final course. Pho fit the bill, as its aroma, taste and texture isn't particularly overwhelming — like tom yum goong can be; nor is it nearly as rich as any of the South Asian curries that spring to mind. It's simple and delicate, and wouldn't steal the spotlight from dessert. All right; enough blathering on about dinner. Onto dessert!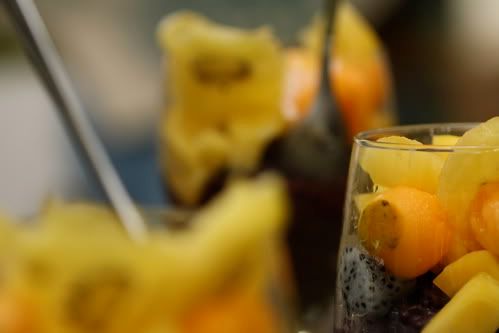 Summer Solstice Rice Pudding
2 1/2 cup water
1 1/4 forbidden rice
1/2 cup sugar
1 tsp cardamom
1 can of coconut milk
1 mango, diced into chunks
1 medium Hawaiian papaya, diced into chunks
2 gold kiwis, sliced
Optional: 2 dragon fruit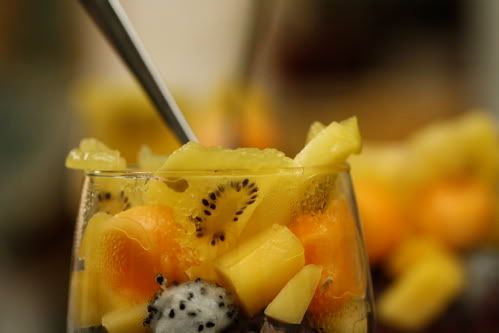 Put water and rice into a medium pot, cover and bring to a boil. Reduce heat to low and simmer until all of the water is absorbed, about 45 minutes. Uncover and stir in all but a drizzle of coconut milk and sugar. Bring back to a simmer and cook, uncovered, for 15 minutes more.
Divide rice pudding among bowls, top with fruit, and drizzle some of the remaining coconut milk over it.
Did I mention that while at Fubonn I found whole, frozen
dragon fruit
from Vietnam? I DID! They're only sold fresh in Los Angeles at the Farmers' markets during the month of September — apparently up until November in Amsterdam, as I saw them for sale there when I visited last November — and afterward become incredibly difficult to find. But there they were, in the frozen fruit section of Fubonn. They were so pretty, I wasn't sure if I could bring myself to cut into their bright magenta flesh. But I did.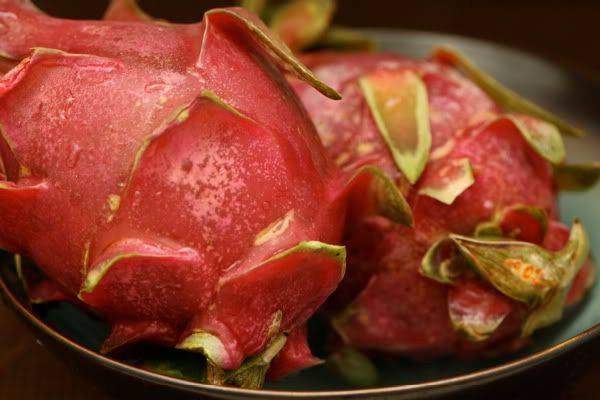 We often see mango and papaya paired with South Asian cuisine, so choosing the above tropical fruit was an obvious choice. But I also wanted colors that paired rather nicely with the smokey midnight purple of the pudding because yesterday (June 21st) was the longest day of the year. In Portland, the sun didn't finally go down below the horizon until well after 10! The Summer Solstice Rice Pudding was a perfect way to end the rather long day.