There's a note at the bottom of the recipe page that says "Sticky buns are best eaten the day they are baked." Well, OK. You're twisting my arm here, Martha Stewart, but I suppose I can bring myself to follow this direction. But only because last week I had the unfortunate luck of buying a sticky bun that turned out to be as chewy as taffy and as dry as cardboard. It came from a reputable nearby bakery, too! I was mighty surprised at the bun's supbar quality, and vowed to make a better batch for this week's berry fest.
Blueberry Pecan Sticky Buns
Dish No. 3 of 6 for
The Bounty of Blissful Berry Bites
(adapted from Martha Stewart's
Baking Handbook
)
For Dough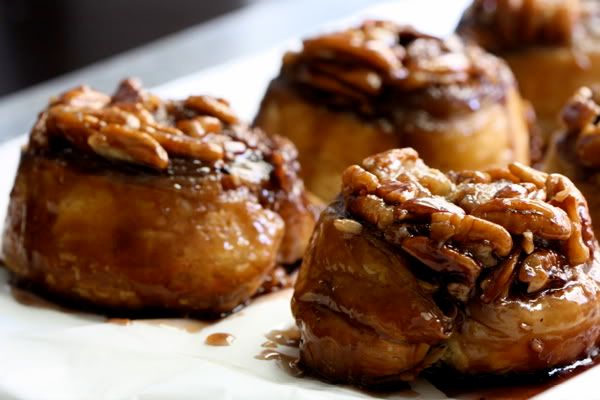 1 cup warm milk (110° F)
2 envelopes active dry yeast
4 1/2 cups all-purpose flour, plus more for dusting
1/3 cup plus 1 Tbsp sugar
1 Tbsp coarse salt
1/2 tsp ground cardamom
4 sticks unsalted butter, room temperature, cut into tablespoons
2 large whole eggs, plus 1 large egg yolk

In a small bowl, sprinkle the yeast over the warm milk; stir until dissolved. Let sit until foamy, about 5 minutes. In the bowl of an electric mixer fitted with a dough hook, combine the flour, sugar, salt, cardamom, and 4 Tbsp butter; beat on low speed until butter is incorporated and the mixture resembles coarse meal, 3 to 4 minutes. Pour in the yeast-milk mixture; mix until dough just comes together. Add the eggs and yolk; mix until just combined, 2 to 3 minutes. Do not overmix.

Turn the dough out onto a lightly floured work surface, making sure to include any loose bits left at the bottom of the bowl. Gently knead to form a smooth ball, about 30 seconds. Wrap well with plastic, and refrigerate at least 2 hours or overnight.

On a lightly floured work surface, roll out dough to an 18-by-10-inch rectangle, about 1/4 inch thick, keeping the corners as square as possible. Remove any excess flour with a dry pastry brush. With a short side facing you, evenly distribute the remaining butter over two-thirds of the dough. Fold the unbuttered third over as you would a business letter, followed by the remaining third. This seals in the butter.

Roll out the dough again to an 18-by-10 inch rectangle, then fold dough into thirds as described above; refrigerate for 1 hour. Repeat this process 2 more times.

Refrigerate dough, tightly wrapped in plastic for at least 4 hours to overnight.
For Buns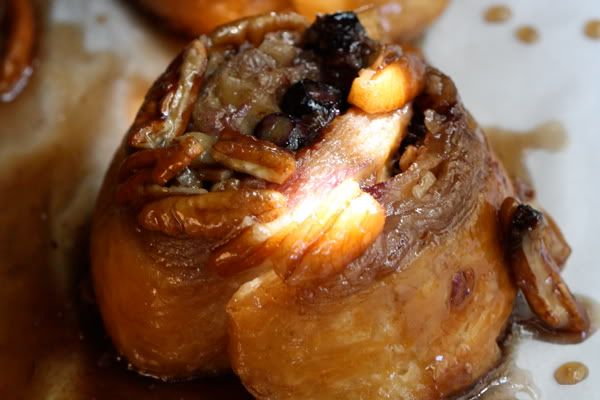 3 1/3 cups pecan halves
2 1/4 cups light corn syrup
3/4 cup plus 2/3 cup packed dark-brown sugar
All-purpose flour, for dusting
3/4 cup sour cream
1 Tbsp ground cinnamon
1 cup fresh, whole blueberries

Let dough stand at room temperature until slightly softened, about 15 minutes. Line a large baking sheet with parchment paper; set aside. Generously butter two 6-cup jumbo muffin tins. Chop 2 cups pecans, and break the remaining 1 1/3 cups in half lengthwise, keeping the two groups separate. Pour 3 Tbsp corn syrup into each muffin cup, and sprinkle with 1 Tbsp brown sugar. Divide halved pecans among the muffin cups.




On a lightly floured work surface, roll out the dough to an 18-by-14 inch rectangle, about 1/4 in thick. Using a spatula (offset, or regular), spread the sour cream over the surface of the dough, leaving a 1/2 inch border. Dust the sour cream with cinnamon, and sprinkle with chopped pecans, remaining 2/3 cup brown sugar, and the blueberries. Roll up the dough tightly lengthwise to form a log about 3 inches in diameter, and trim the ends using a serrated knife. Transfer log to prepared baking sheet. Refrigerate until firm, about 30 minutes. Meanwhile, preheat the over to 350° F.




Using a sharp knife and a sawing motion slice the dough crosswise into 12 rounds, about 1 1/2 inch thick, and place in prepared pans. Cover loosely with plastic wrap, and let rise in a warm place until 1/2 inch above cups, about 20 to 30 minutes. Transfer to the oven, placing a baking sheet on the rack below to catch drips. Bake, rotating pans halfway through, until buns are dark golden brown, about 40 minutes.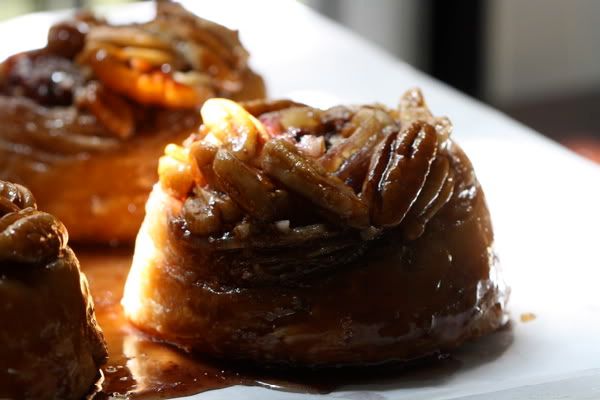 Immediately turn out the buns onto parchment-lined baking sheets. Replace any pecan halves that have fallen off. Place the baking sheet on a wire rack to cool. Serve warm or at room temperature. "Sticky buns are best eaten the day they are baked."