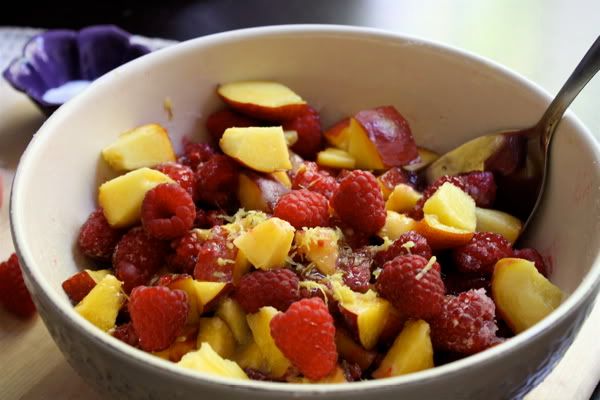 Raspberry Peach Cobbler with Earl Grey Biscuit Topping
Dish No. 2 of 6 for
The
Bounty of Blissful Berry Bites
(an adaptation of a cobbler recipe found in Martha Stewart's
Baking Handbook
)
For Cobbler
2 pints fresh raspberries
1 1/2 lbs yellow peaches, pitted and diced
1 1/4 cups sugar
1/3 cup instant tapioca
Juice and zest of 1/2 lemon
1/2 tsp plus a pinch of salt
For Drop Biscuits
1 1/2 cups all-purpose flour
3/4 cup fine yellow cornmeal
2 tsp baking powder
1/2 tsp baking soda
1 tsp salt
2 Tbsp sugar
2 bags of Earl Grey tea
1 stick unsalted butter, cold, cut into small pieces
1 cup milk
Preheat oven to 375° F, with racks in the center and lower third. Lined a rimmed baking sheet with parchment paper; set aside. In a large bowl, toss together the raspberries, peaches, sugar, tapioca, lemon juice, and pinch of salt; stir to combine. Let stand about 15 minutes, stirring once or twice. Divide the filling among six to 8 10-ounce baking dishes, or pour into a 2 1/2-quart baking dish.
In a large bowl, whisk together the flour, cornmeal, baking powder, baking soda, salt, sugar, and Earl Grey tea. Using a pastry blender, cut in the butter until the mixture resembles coarse crumbs with a few larger clumps remaining.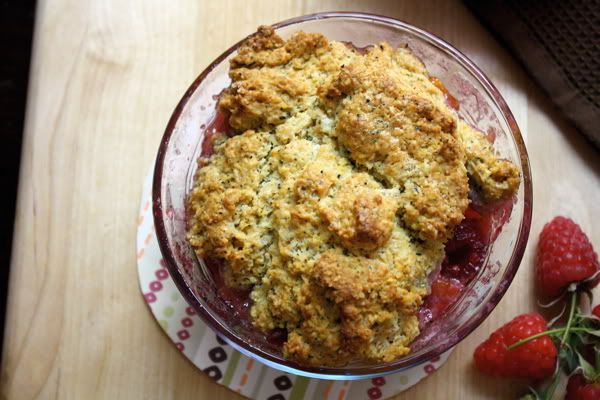 Pour in the milk; using a rubber spatula, fold milk into the dough, working in all directions and incorporating crumbs at the bottom of the bowl, until the dough just comes together. Do not overmix. Using a large spoon, top cobbler filling with dollops of dough, leaving a 1-inch border.
Brush dough with cream. Transfer baking dishes to prepared baking sheet; bake, rotating sheet halfway through, until biscuits are golden brown and juices are bubbling, 50-60 minutes. Cool on a wire rack, at least 1 hour. Serve warm or at room temperature.