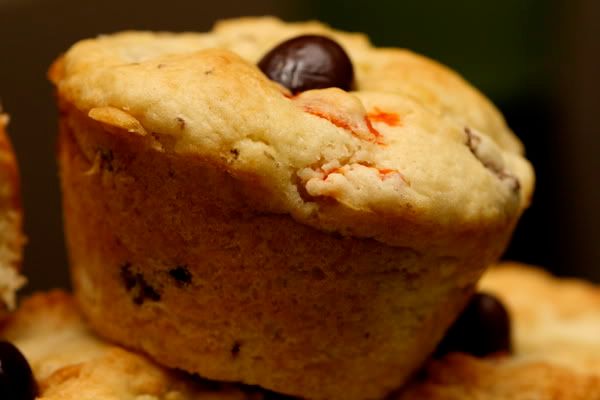 Last Wednesday I was already on the case to come up with this week's muffin. I was in the mood for something atypical, something so cheekily-clever, that its existence would cause my small audience to roll their eyes in response to my tendency toward bad humor. I happened to be lunching at
Everett Street Bistro
that day, and at the bottom of their menu I found the inspiration for the baked good you see today: the Muff
in
letta. Get it?
So, do you know what a "muffuletta" is? It's the name of a sandwich found most commonly served in New Orleans (if you couldn't tell, it's also served at Everett). It's not exactly the kind of sandwich you'd see Jared from Subway promoting because it's loaded with half a week's recommended maximum intake of fat and salt. Seriously, this isn't like a girlie-girl turkey on whole grain toast with cranberry chutney. This sandwich is on a whole other level of gastronomy, one that includes 2 pound bready, meaty sandwiches that have been slathered with an oily-fermented-sweet-spicy salad. To eat this sandwich is to also temporarily shun mayonnaise, as it's considered a sin to adulterate the bread with a spread that's best reserved for the likes of tuna fish and curry chicken salads. It's some seriously good eats, and it's even just as delicious in muffin form.
For more information on the history of the muffuletta, you can read its
Wikipedia page
.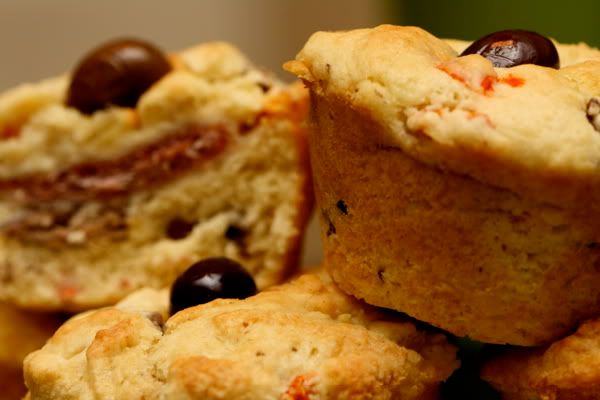 The Muff
in
letta
Like its far-distant sandwich relative, the muffin version of the muffuletta is just as fatty and salty. If this isn't your thing, you might consider making, I dunno, apple bran muffins instead.
For the Batter:
1/4 lb each of the following: mortadella, capiccola ham, Italian salami, provolone and emmentaler (or mozzarella) cheeses
2 cups flour
1/2 cup sugar
1 tablespoon baking powder
1/2 teaspoon salt
1/2 teaspoon baking soda
1 cup buttermilk
1/4 cup melted butter
2 eggs, beaten
2 cups olive salad (store bought — some places carry it, — or your own, in which case read below)
Preheat oven to 400° F. Flour and butter one 6 jumbo muffin tin. Before the mixing begins, take out the assorted meats and cheeses. Here's what I thought up: Using a 2" biscuit cutter, make uniform circle cutouts in each of the cheese slices; set aside. Using a 1" biscuit cutter, make similar, but smaller uniform circle cutouts in the deli meats. The capicolla will be slightly tough to cut through, but if you work at it, it should come out all right.
Stir together the flour, sugar, baking powder, salt, and baking soda. Whisk together the buttermilk, butter and eggs. Add the wet ingredients to the dry, and then gently fold in the olive salad (make no more than 15 strokes!).
Spoon a little bit of batter into the bottom of each muffin tin. Top the batter with 1 slice of provolone, then follow with 2-3 slices of each meat, followed by 1 slice of emmentaler cheese. After you've put the layer of emmentaler cheese on, spoon some more batter over the top. By making the cheese rounds slightly larger than the slices of meat, the cheese will melt together while in the oven, thus sealing in the meat, and bringing the top and bottom batter parts together to make 1 whole muffin. Pretty nifty, huh? (I gave myself a pat on the back for that one.) Bake for 18-20 minutes or until a toothpick inserted in the center comes out clean. Remove muffins from cups while hot and cool on a rack.
For Olive Salad:
1/2 jar large pimento stuffed green olives, slightly crushed and well drained
1/2 jar Greek olives
1 jar of Mezzetta Italian Mix, which should contain pickled cauliflower, carrots, celery, cocktail onions, salad peppers, pepperoncini and spices
1/2 small jars capers, drained
The following spices to taste: celery seed, oregano, garlic and pepper
Combine all of these ingredients together by hand in a bowl and reserve until you're ready to incorporate the mixture into the muffin batter.