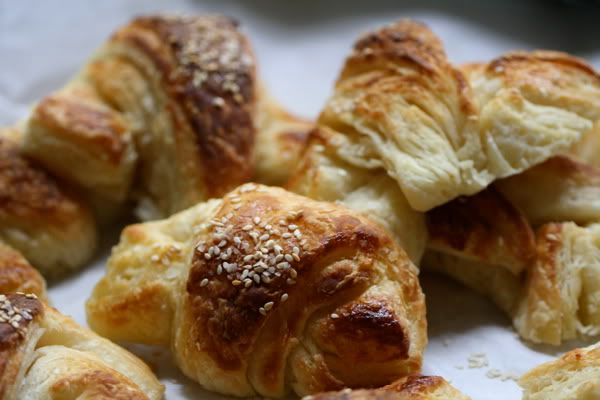 Once upon a time there was a bakery in the Brentwood/Santa Monica area called
The City Bakery
. And this bakery once sold pieces of happiness in the form Pretzel Croissants for $3.75 a pop. Now, these croissants... they were these amazing multi-layered, butter-bursting, sesame-dusted, salty, crispy-caramel-colored puffs of utter ecstasy. People came from far and wide to get these croissants fresh off the cooling racks each morning and throughout the afternoon. I was one of those individuals, and did I travel far to get them.
These croissants were better than any of the ones I had in Paris two years ago, so much so that during my first trip to the bakery, I went back inside and got myself another one. I remember it being really hard not to eat the second croissant right then and there: I finally had to break down and eat some Reese's peanut butter Easter eggs to take my mind off of it. (I lead a difficult life, I'm aware.) The best part about the experience was the fact that if I gave the pastry the slightest pinch, melted butter seeped out from the layers. That's right, the croissant oozed butter! So it wasn't the most heart-healthy thing to eat. But it was a croissant! IT WASN'T MEANT TO BE. Oh, it was so good. So very, very good.
And then one Saturday, City Bakery went bye-bye. Shuttered. No more. It didn't bother me all much because I'd already made up my mind to move away from Los Angeles, but I imagine it left a void in the hearts of each one of the bakery's fervent devotees. A void once filled with the arterial plaque that developed from having ingested too much butter, but a void nonetheless.
There still exists a City Bakery in New York City, and they still serve Pretzel Croissants, and I'm sure they'll gladly UPS you however many croissants $20 gets you. But there might come a time when you wake up and want a Pretzel Croissant before the day is over, and you happen to live on the other side of the country. Should that ever happen to you, I've got just the recipe for you.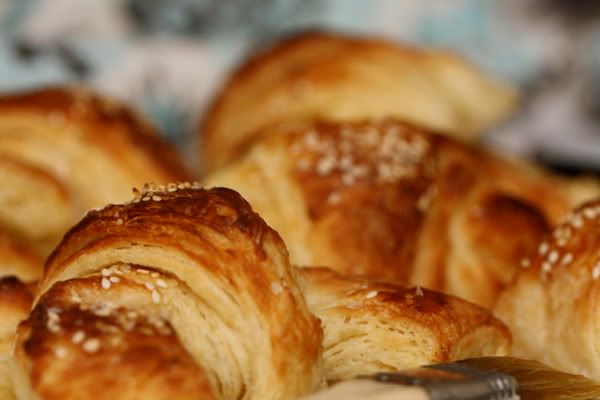 Pretzel Croissant
(an adaptation of Martha Stewart's croissant recipe, found in
Martha Stewart's Baking Handbook
)
2 cups cold milk
2 tbsp honey
1 1/2 lbs (about 4 1/2 cups) bread flour, plus more for dusting
4 oz (scant 1 cup) pastry flour (if you don't have pastry flour, mix equal halves of all-purpose and cake flour)
1/2 cup sugar
1 1/2 oz fresh yeast, crumbled
1 tbsp plus 1 1/2 tsp kosher salt
1 3/4 lbs (5 sticks) unsalted butter, cold
1 large egg, lightly beaten
Enough kosher salt and white sesame seeds to sprinkle over the dough before you place it in the oven
Helps to have:
A pastry scraper
A pizza roller
A ruler
Baking sheets with edges to prevent melted butter from running off while the croissants are baking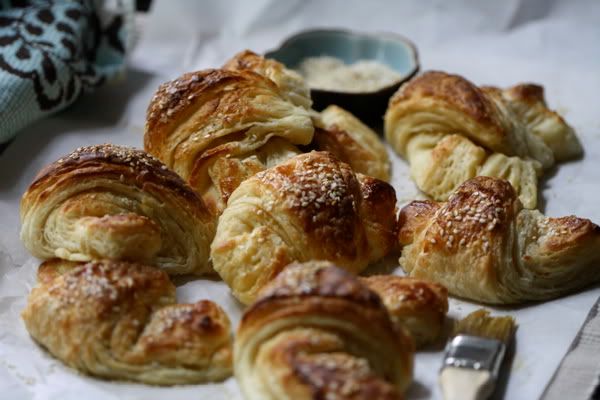 For the dough:
Pour the milk and honey into a 1-quart liquid measure cup, and stir to combine. In the bowl of an electric mixer fitted with a dough hook, stir together 1 lb 6 oz (about 4 1/14 cups) bread flour, pastry flour, sugar, yeast and salt; stir to combine. Add the milk mixture, and mix on low speed until the dough just comes together, about 2-3 minutes.
(Chef's note: Keep in mind that salt kills yeast, so I always add the salt to the bottom of the mixer, and put the yeast on top of the flour. It's also really important that you have a dough hook because other attachments won't mix the ingredients as thoroughly.)
Turn out dough onto a lightly floured work surface; gently knead to form a smooth ball, about 45 seconds. Wrap in plastic and refrigerate for at least 1 hour.
For the butter package:
Lay the butter sticks side by side on a piece of plastic wrap, and sprinkle with the remaining 2 oz of bread flour. Pound with a rolling pin until flour is incorporated, and roll into an 8-inch-square. Wrap tightly and refrigerate for 1 hour.
Remove dough package from the refrigerator; place on a lightly floured surface. Roll out to a 16-by-10 inch rectangle, about 1/2 inch thick, with a short side facing you; keep the corners as square as possible. Remove any excess flour with a dry pastry brush. Remove butter package from refrigerator, and place it on top of the dough package. Starting at the far end, fold the top half of the rectangle over the butter package; repeat with the bottom half, there will be some overlapping. Flip the dough over, so the seams are face down. Proceed to roll the dough so that the butter integrates itself into the dough package. You will want to roll it out again to a 16 x 10 inch rectangle. Then fold the dough in third like a letter.
This completes the first of 3 turns. Wrap in plastic and refrigerate 1 hour.
Repeat rolling and folding as above 2 more times, starting with the flap opening on the right, as if it were a book, and refrigerate at least 1 hour between turns. After the third and final roll, refrigerate one more time, 6 to 8 hours, to overnight.
Later than day/the following morning, turn out chilled dough onto a lightly floured work surface. Roll out the dough to a 30-by-16 inch rectangle. Using a pizza wheel or pastry cutter, cut the dough in half lengthwise to form two 30-by-8-inch rectangles. Stack one piece of dough on top of the other, lining up edges. Using the pizza wheel, cut dough into triangles, each with a 4-inch base. Cut a 1-inch slit in the center of the base of each triangle. Place triangles in a single layer on a clean work surface.
To shape the croissants, stretch the two lower points of each triangle to enlarge the slit slightly. Fold the inner corners formed by the slit toward the outer sides of the triangle, and press down to seal. Using your fingertips, roll the base of the triangle up and away from you, stretching the dough slightly outward as you roll, the trip should be tucked under the croissant. Put the two ends toward you to form a crescent. Transfer crescents to two parchment-lined baking sheets, 2 inches apart. Cover loosely with plastic wrap, and let rise in a warm spot until very spongy and doubled in bulk, about 45-60 minutes.
Preheat the oven to 400°, with the racks in the upper and lower thirds. Lightly brush crescents with beaten egg and sprinkle with kosher salt and sesame seeds. Bake, rotating sheets halfway through, until the croissants are puffed and golden brown, about 20 to 25 minutes. Transfer sheets to a wire rack to cool. Serve warm or at room temperature.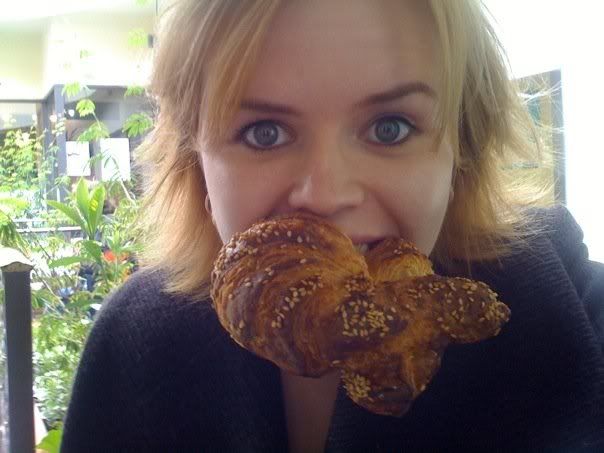 The Chef, with the aforementioned Pretzel Croissant, the day before City Bakery closed in April 2009.