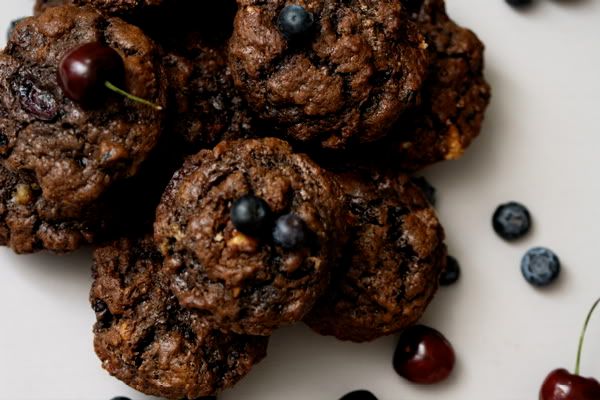 To celebrate the arrival of the Oregon's cherry and blueberry season, I made...
Cherry-Berry-Choco-Walnut Muffins
1/2 cup unsalted butter, melted and cooled
2 large eggs
1 cup buttermilk
2 tsps pure vanilla extract
1 3/4 cups all-purpose flour
2/3 cup unsweetened cocoa powder
1 1/4 cups light brown sugar
1 tsp baking powder
1 tsp baking soda
1/2 tsp salt
1 cup semisweet chocolate chips
1 cup candied walnuts (your own, or store-bought —
this
is the recipe I used)
3/4 cup dried blueberries
3/4 cup pitted red cherries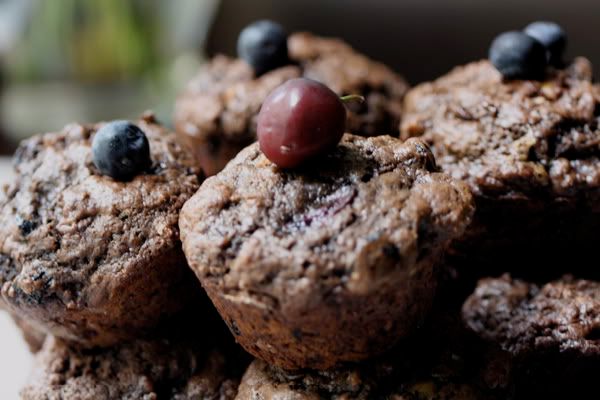 Before you begin, you're going to want to pit the cherries and soak the dried blueberries in hot water. The water will cause the blueberries to plump during the baking process. Preheat oven to 375°. Position rack in center of oven. Butter and flour dust 1 standard size muffin tin.
In a large measuring cup or bowl whisk together the cooled butter, eggs, buttermilk, and vanilla extract.
In another large bowl whisk together the flour, cocoa powder, sugar, baking powder, baking soda, and salt. Stir in the chocolate chips. With a rubber spatula fold the wet ingredients, along with the cherries, blueberries and candied walnuts, into the dry ingredients and stir only until the ingredients are combined. Again, apply the 15 strokes method when mixing.
Evenly fill the muffin cups with the batter (the muffin cups will be full). Place in the oven and bake until a toothpick inserted in the center of a muffin comes out clean, about 20 minutes. Transfer to a wire rack and let cool for about 5 minutes before removing from pan.