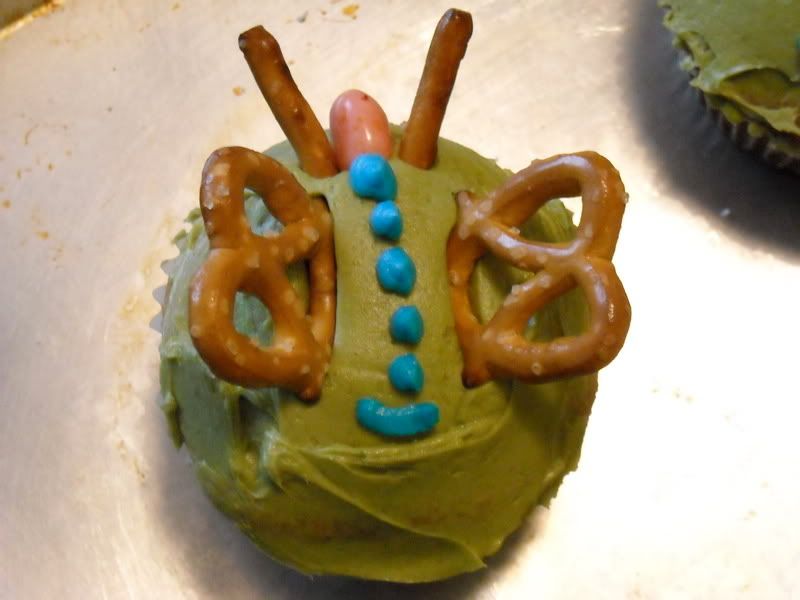 Butterfly Cupcakes with Honeydew Melon Filling and Matcha Green Tea Frosting
Vanilla Cupcakes:
* 3 cups all-purpose flour
* 1 1/2 teaspoons baking powder
* 3/4 teaspoon salt
* 12 tablespoons unsalted butter, room temperature (1 1/2 sticks)
* 1 1/2 cups sugar
* 4 large eggs
* 2 teaspoons pure vanilla extract
* 1 1/4 cups milk

Heat oven to 350 degrees. Line cupcake pan with paper liners; set aside. In a medium mixing bowl, whisk together flour, baking powder, and salt. In another mixing bowl, cream the butter and sugar until light and fluffy, about 4 minutes. Add eggs one at a time, mixing until incorporated and scraping down sides of bowl, beat in vanilla.


Add flour mixture and milk alternately, beginning and ending with flour. Scrape the sides and bottom of bowl to assure the batter is thoroughly mixed. Divide batter evenly among liners, filling papers about 2/3 full. Bake on the center rack of the oven until tops spring back to touch, about 20 minutes. Transfer to a wire rack to cool completely.
Honeydew Melon Filling:
* 1 cup of honeydew melon, diced
* 1/4 water
* 1/4 sugar
* 1 tablespoon cornstarch
Mix the water and the diced honeydew in a small saucepan and cook on medium for 4 minutes. Combine the sugar and the cornstarch in a separate bowl, and then whisk into the honeydew mixture. Stir liberally for about 5 minutes until the filling has thickened; remove from stove top and then cool.
Matcha Green Tea Frosting:
* 10 tablespoons of butter, softened
* 1 cup powdered sugar
* 1 tablespoon matcha green tea powder (available at places like Whole Foods)
In a large bowl, beat the butter and powdered sugar until it reaches a frosting-like consistency. Add the matcha green tea, a tablespoon at a time (be sure to scrape down the bowl multiple times so that the powder is fully incorporated). Ideally, you should make this 5 minutes before you plan to frost the cupcakes. If you're making it in advance, cover and refrigerate. Bring to room temperature about 30 minutes before you intend to use it (give it a good stir, too).
Additional items: Pretzel rods and twists, jelly beans, and blue food coloring.
Equipment needed: Two 12 cup muffin pans, an offset spatula, one plastic ziploc bag for piping frosting, one melon baller, and an electric mixer.
How to assemble: Wait until the cupcakes have completely cooled, and then proceed to use the mellon baller to scoop out some of their middles. Spoon in the filling. Using the offset spatula, frost the cupcakes. Adding the butterfly-esque parts is easy as pie; use the visuals I've provided as a guide.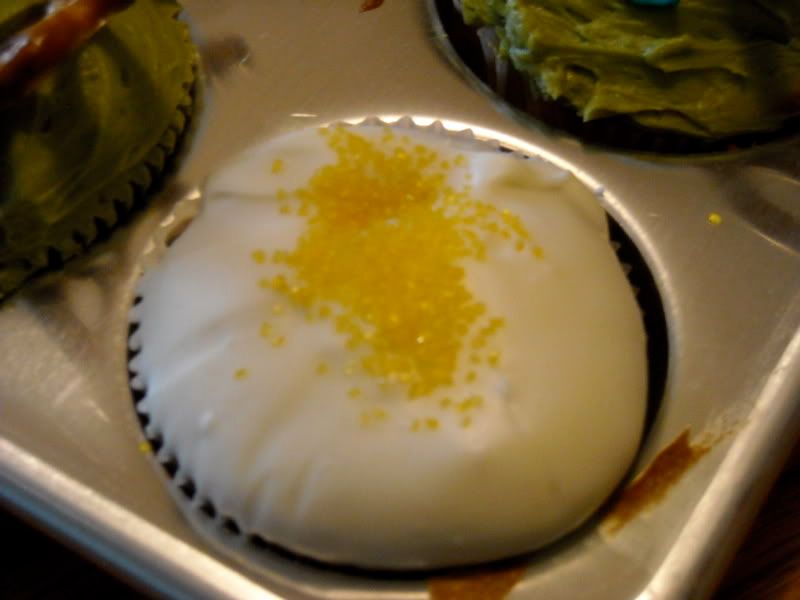 Key Lime Pie Filled Cupcakes with a White Chocolate Glaze


Key Lime Pie Filling
:


Note: You can use store-bought pie filling. The best one by far is Dr. Oetker; however, Jell-O is an acceptable substitution as well.
* 4 large or extra large egg yolks
* 1 14 ounce can of sweetened condensed milk
* 1 tablespoon of cornstarch
* 1/2 cup fresh key lime juice (approximately 12 Key limes)
* 2 teaspoons grated lime peel, green portion only
Use an electric mixer and beat the egg yolks until they are thick and turn to a light yellow, don't over mix. Turn the mixer off and add the sweetened condensed milk. Turn speed to low and mix in half of the lime juice. Once the juice is incorporated add the other half of the juice and the zest, continue to mix until blended (just a few seconds). Transfer to a medium saucepan and cook until bubbles bring to form. Remove from the heat, allow to sit for 5 minutes, then stir and place in the refrigerator. You will have A LOT of filling, so be prepared to use the leftovers to make a pie or tart... or just eat it straight from the pan.
White Chocolate Glaze:
* 5 ounces white chocolate, melted
* Optional: Sprinkles
Melt the white chocolate in a microwave safe bowl for 45 seconds. Pull the bowl out and stir it until all the chips have melted.
How to assemble:
Use the mellon baller directions typed above. When it comes time to glaze the cupcakes, simply turn them upside down and dip them in the hot white chocolate. Transfer to a plate or cookie sheet so the white chocolate may harden.