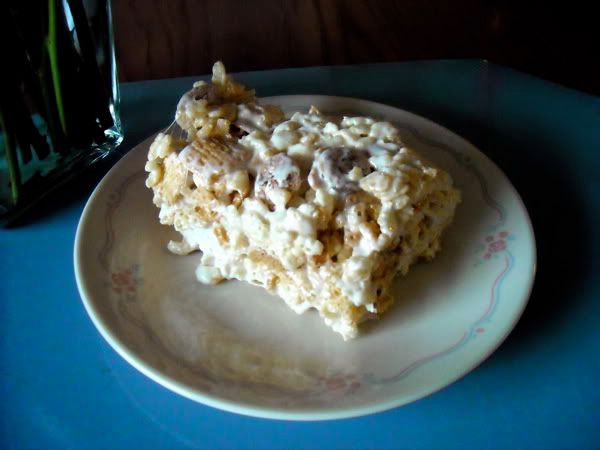 For someone whose childhood spanned the late 80s-mid 90s — the height of the Rice Krispies Craze, — nothing evokes memories of elementary school better than those treats. The little sticky-sweet morsels of happiness were a staple at every holiday class party, so much so that my 2nd grade teacher once sent us home with a note before our Halloween party asking if parents could bring other goodies instead. (Despite her best efforts, each child still went home with four squares... and that was after we'd done all but gnawed the legs off the table that supported our class' sugar buffet of diabetic-inducing proportions.)
Though Wikipedia says that Rice Krispies Treats have been around since
1939
, they rose to super popularity during my childhood, as that's when Kellogg's introduced pre-made individual squares. The manufactured kind are sufficient if you're in dire need of a quick Krispies fix, but overall I find them to be unpalatable, so I don't eat the treats unless I make them. The variation I whipped a few mornings ago used the standard Kellogg's ratio of cereal to marshmallows and butter. However, I took some creative liberties and incorporated three different cereals into the mix because doing so made them sturdier for coffee dunking.
Three Flavors Rice Krispies Squares
* 2 cups Rice Krispies cereal
* 2 cups Cinnamon Toast
crack
Crunch
* 2 cups Cookie Crisps
* 10 ounces of large marshmallows (preferably homemade)
* 3 tbsp of butter
In large saucepan melt butter over low heat. Add marshmallows and stir until completely melted. Remove from heat. Add
the various
cereals and stir until well coated. Using a buttered spatula or wax paper, evenly press mixture into 13 x 9 x 2-inch pan coated with either butter or cooking spray (I used butter). Cool. Cut into 2-inch squares.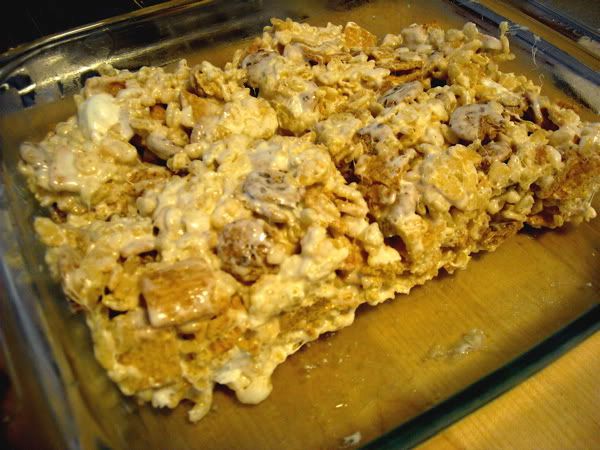 I used a 9 x 9 Pyrex pan because I wanted extra thick squares