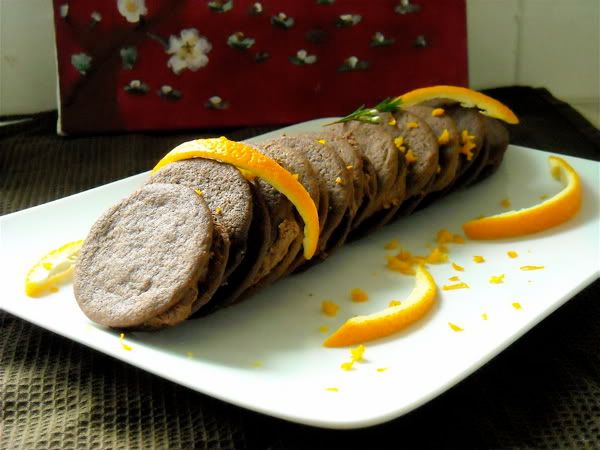 Milk-Chocolate Sandwich Cookies with Marmalade Chocolate Cream
Cookies
* 1 1/2 sticks unsalted butter, softened
* 1/2 cup light brown sugar
* 1/2 cup granulated sugar
* 6 ounces milk chocolate, melted and slightly cooled
* 1 tbsp vanilla extract
* 1 3/4 cup all-purpose flour
* 2 tbsp unsweetened cocoa powder
* 1 tsp baking soda
* 1/2 teaspoon salt
Filling
* 1 stick unsalted butter, softened
* 1/2 cup dark chocolate cocoa mix (Godiva, again)
* 1/2 tsp vanilla extract
* 2 cups powdered sugar
* 1/4-1/2 cup orange marmalade
Preheat the oven to 350° degrees. Line 2-4 baking sheets (depending on their size – you'll likely need 4) with parchment paper.
In a large bowl, beat the butter with the two sugars until smooth. Add the melted milk chocolate and vanilla and continue to beat until it reaches a smooth consistency. In a separate smaller bowl whisk together the flour, cocoa powder, baking soda and salt. Combine the wet and dry ingredients together until just barely incorporated. Roll out the dough between two sheets of parchment paper to a scant 1/4 inch thickness and then promptly refrigerate until firm, about 15-20 minutes.
Using a 2-inch round cookie cutter, stamp out as many cookies as you can get, and then carefully transfer them to the baking sheets. Reroll the scraps between the same two sheets and refrigerate again for another 15 minutes. Repeat the process until all the dough has been used or you're sufficiently tired from the repetition, whichever comes first.
Bake the cookies in the lower and middle thirds of the oven for 10 minutes, until dry, but not burnt brown; make sure you shift the pans halfway through the baking. Transfer them to a rack or cutting board 5 minutes after pulling them from the oven, and let them cool complete.
To make the filling you'll want to beat the butter with the dark chocolate cocoa mix for about 3 minutes. Add the marmalade, vanilla and powdered sugar and beat at low speed until combined. Use an offset spatula or ersatz pastry ziploc bag to spread or pipe the filling over half of the cookies. Press the remaining cookies over the filled ones and serve.
Oh, the painting? Tis by me... and it was a hell of a lot easier to make that than it was to make sure the cookie dough circles came off the parchment paper without getting smushed.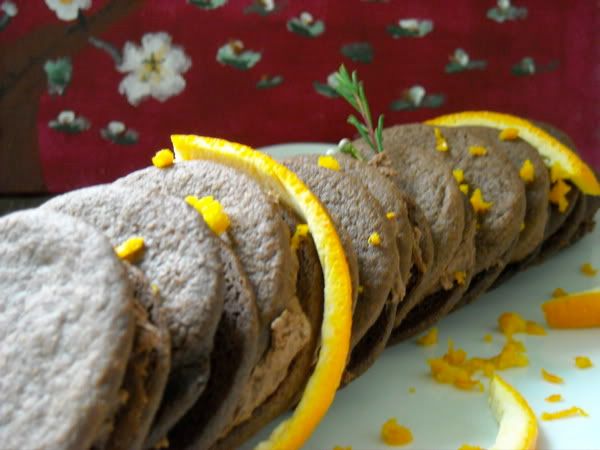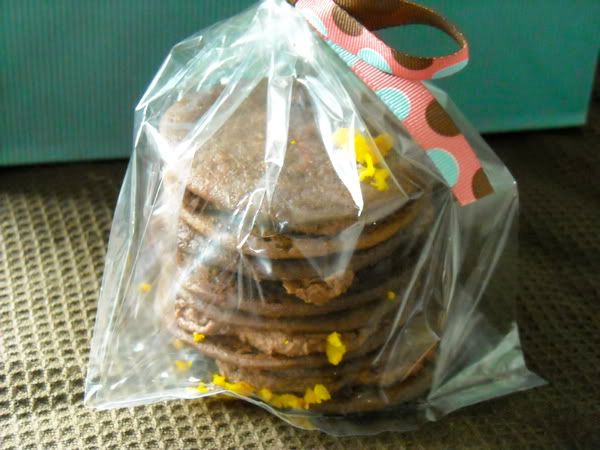 All wrapped up and ready to be delivered!