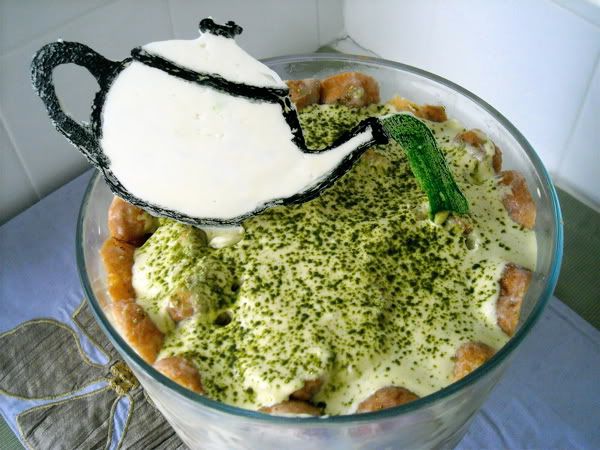 This is an adaptation of a recipe from
House of Annie
. I originally made it a while back for a few friends who work at
Touché
. The staff at the restaurant said that they really enjoyed the dessert, and it just so happens that I really enjoyed making it. Now a couple of friends are throwing a small party this evening, so I thought I'd go ahead and bring green tea tiramisu as a sweets offering. Plus, I recently aquired a trifle bowl for $10 from Bed, Bath and Beyond and wanted an excuse to use it.
My adaptation is as follows:
* I added 1/2 cup melted white chocolate and 1 teaspoon caradamom during the first phase of the process.
* For the cooled green tea, I brewed two bags of Tazo ginger-pear green tea.
* The first time I made the tiramisu, I used lady fingers. This time, however, I used 3 boxes of mini-donuts (halved) because the grocery store nearest to me wasn't selling the right kind of puff wafers.
* The teapot streaming green tea into the tiramisu in the above photo is totally edible. I melted white melting chips (not the same thing as white chocolate!) in a plastic ziploc bag, snipped off the tip, and drew a teapot onto wax paper. I then laid the paper in the refrigerator for 10 minutes to firm up. To paint it, I mixed food coloring with a scant amount of powdered sugar.