I didn't become a decent baker until after I designated all Wednesdays as Muffin Days; that was just 3 years ago. In actuality, my culinary talents lie in cooking. A cursory glance at this blog might give you a slightly skewed view of my abilities and preferences, though. There's a good reason why it might appear that I'm just two tablespoons away from getting a cavity
1
, and I'll just say upfront it's not because this operation is a front for the "Illuminsweetie."
The house I live in was designed to receive lots of natural light, which does a lot to help create the startling realism in some of my photos. I don't own a copy of Photoshop, and my current digital camera is a Nikon Coolpix L18 I got on sale for $175 early last year. So if you find yourself pleased with the visuals, you can thank el sol for that. Another thing to take into account is that I tend to bake in the early mornings, or late enough at night that I don't have the energy to scarf down what I've made, which means it'll still be around to be photographed the following day.
Dinner is a different matter entirely. Sadly, the indoor lighting of this place sucks. I mean it really does. And no matter how much I futz (I'm a big futzer, just as Mr. ProNerd) with the position of the lamps or lights, or the flash settings on the cheap-o Nikon, the nighttime photos are generally of poor quality (IMO). A digital SLR camera has been on my list of Things I Want since I started to photo document my creations a number of months ago; but it'll be some time before I have one in my possession. That's the real reason why I don't post many photos from dinner. And lunch? That's usually eaten out, or in the office... except on the weekends.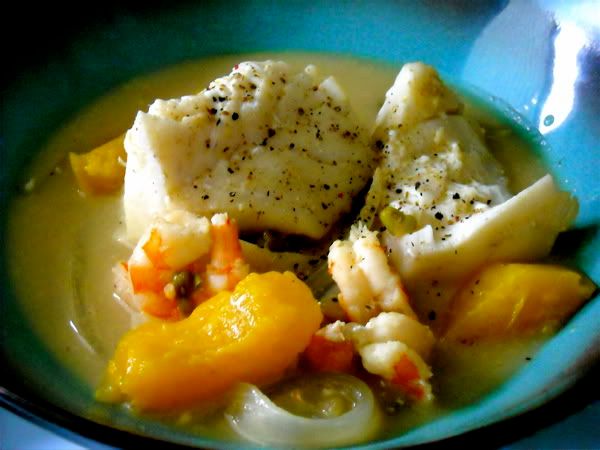 Mung Bean Seafood Green Curry with Papaya
* 1 can light coconut milk
* 2-3 tbsp green coconut paste
1
* 1 tsp cardamom
* 2 tbsp brown sugar
* 1/2 an onion, sliced length-wise
* 1/3 cup chicken stock
* 1 cup
mung beans
* 1 cup shrimp
* 1 piece of rock cod, peppered and lightly salted
* 1/2 a papaya, sliced
Bean Prep
If you're using dry mung beans, you'll need to soak them overnight, covered, in a pool of cool water. Make sure you discard any floaters before cooking the beans. Add 2 cups water to a small saucepan and cook the beans over medium-high heat until the skins start to float off. Remove from heat.
Curry
In a separate saucepan, add the coconut milk, green curry paste, cardamom and brown sugar and simmer for 5-10 minutes.
3
Add the sliced onion, 1/3 cup of chicken stock, shrimp, rock cod and papaya and continue to simmer for an additional 15 minutes.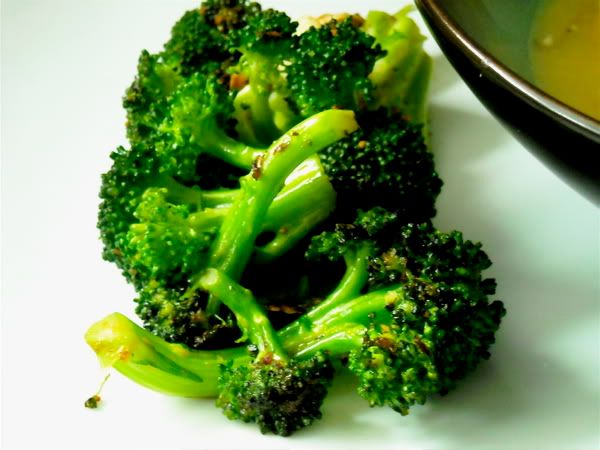 Three Citrus Blackened Broccoli
* 1 tbsp sesame oil
* 10 cloves of whole garlic
* 1 head of broccoli, broken into bits
* 5 pieces of sliced ginger
* 3 tablespoons of lemon, lime and orange zest
* Salt and pepper to taste
Heat the oil in a heavy skillet; add the garlic after 3 minutes. When the garlic begins to "dance," add the broccoli, ginger and citrus zests. Continue to cook on high heat until the garlic begins to brown and the air becomes redolent with its fragrance. Stir the mix every so often, making sure the broccoli browns and blackens evenly.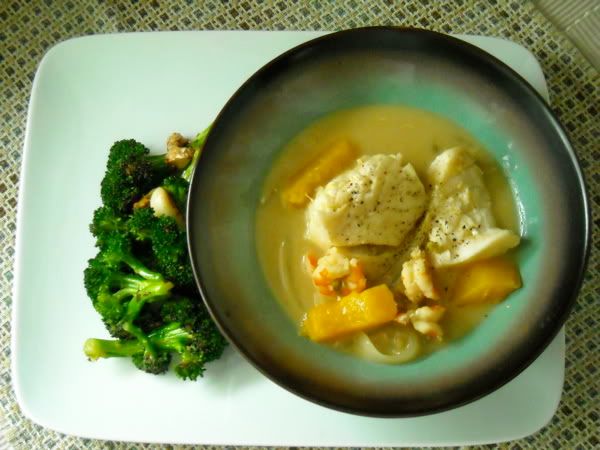 _______________
1
Actually, I've never had one. Chock that up to years of good oral hygiene.
2
You can make your own by combining green chiles, galangal, kaffir lime leaves, shallots, garlic and salt. Thai Kitchen also sells a variety as well.
3
I like my curries on the spicy side, so 3 tablespoons of paste might be too much for some. However, the addition of the papaya not only provides a great flavor contrast, it also protects your mouth from the heat of the chiles without totally killing the rest of the curry taste.