Left to right: An updated take on the traditional shrimp po boy, blackened cod, and a curry burger.
I'm telecommuting today. Translation: An opportunity to use my lunch hour to fix me a proper meal. On Monday I happened to stop by Williams-Sonoma for quick looksie following work, and ended up flipping through their
New Flavors for Appetizers
cookbook. Inside there was a recipe for sliders (admittedly I don't remember it), and that got me thinking I could very easily make my own. The idea stayed with me and eventually morphed into a craving.
Coming up with the recipes involved taking a quick inventory of what I already owned, thinking for 10 minutes, and then hitting up the grocery store last night to get the additional victuals needed. I knew ahead of time that I was only going to have an hour to cook, broil, chop, and assemble, so I did a hefty amount of prep work late Thursday evening. Speaking of time: I can't post the recipes right now, but I will later! Until then, here's a quick-and-dirty rundown of what's in between the buns.
Updated shrimp po boy: Chinese five spice dusted shrimp over roasted red peppers with a ginger-cilantro-Serrano chile aioli.
Blackened cod: Blackened cod with homemade black bean hummus and broiled bananas.
Curry burger: A patty mixed with curry powder, served over pearl onions and topped off with blue goat cheese (available at
Bristol Farms
) and orange marmalade.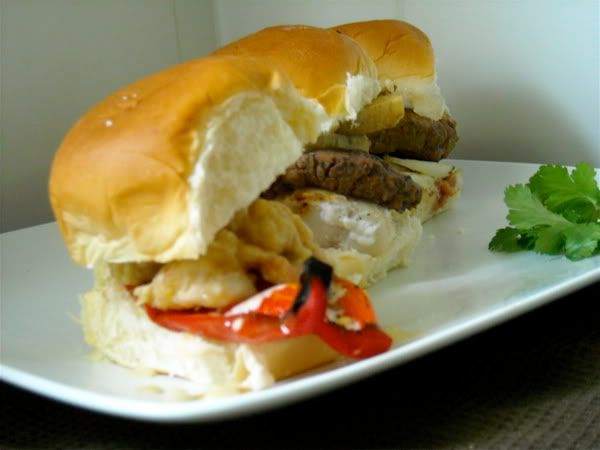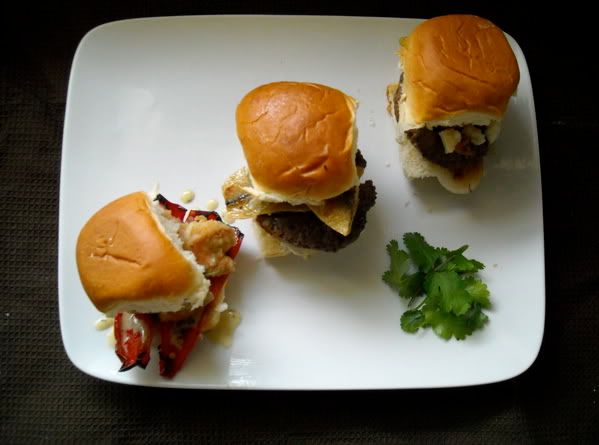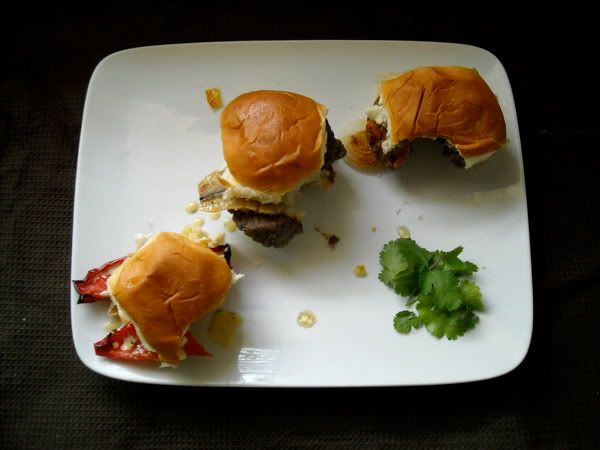 I had just enough time left to take a bite out of each one, and then I had to get back to work!