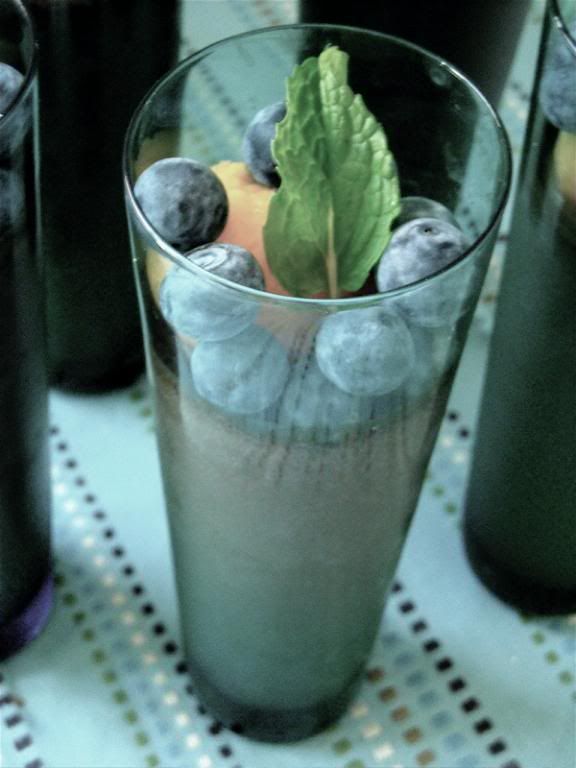 There's an old Spanish saying that goes something like, "When life gives you leftover tres leches, you make potes de crema con la papaya y los arándanos." (The person who came up with the saying was apparently bilingual as well.) Well, when the
tres leches pear muffin
experiment had ended, I realized I had enough milk leftover to make 3 additional cups! Dumping out so much liquid seemed like such a waste, so I decided to do something about it.
Potes de Crema con la Papaya y Los Arándanos
* 3 cups of tres leches (1 cup cream, 1 cup whole milk, 1 cup condensed milk)
* 10 ounces of semi-sweet chocolate
* 3 tbsp of dark hot chocolate powder (I used Godiva, a gift from Mr. ProNerd)
* 5 egg yolks
* 1 half of a ripe papaya, de-seeded and scraped out with a mellon baller
* 1/2 cup of blueberries
* Garnish: mint leaves
Special equipment: small pots, ramequins, champange flutes, or elongated drinking glasses.
In a large saucepan heat the tres leches mixture until it is boiling. Remove from heat. In a medium-sized heatproof bowl, whisk the five egg yolks until just beaten. In a large heatproof bowl, dump the chocolate chips and the cocoa powder; stir until incorporated.
Temper the egg yolks with some of the hot milk, and then gradually pour the yolks into the large sauce pan, whisking constantly. Cook the custard on medium-high heat until it's thick enough to coat the back of a spoon (about 4 minutes). Pour the sauce over the chocolate and let it sit for 2 minutes, then stir until smooth. Transfer that mixture to a blender and puree until it is
extremely
smooth. After that's done, get out your glasses/ramequins/what have you and pour the chocolate custard into them. Refrigerate for at least 2 hours (preferably overnight). Take the potes de crema out of the refrigerator 15 minutes before you intend to serve them and then garnish them with the papaya balls, blueberries and mint.