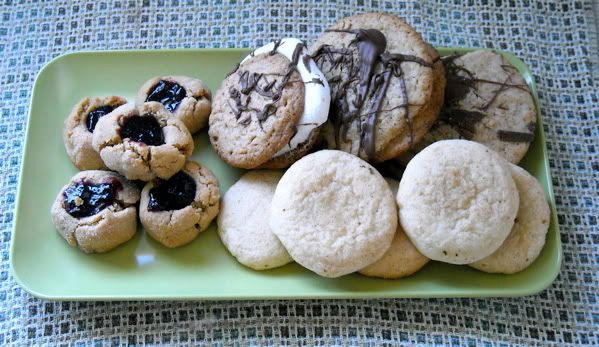 Left to right: peanut butter and jelly, s'mores (success!) and snickerdoodle.
The recipe card said that the best cookies are the homestyle, feel good, stick-to-the-roof-of-your-mouth kind that your mother used to make, and it was right.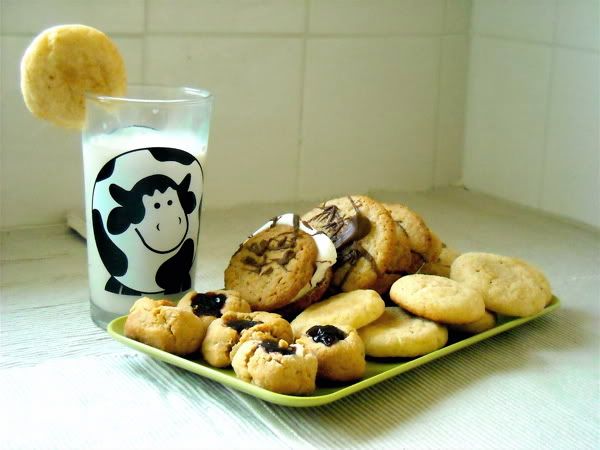 Last night I made 7 dozen cookies, which might explain why the cow looks nonplussed.
I think she wants to know how I plan on dunking all those cookies when we're almost out of almond milk. What the heifer does not know is that I've got a list people I want to send mini-care packages to. Net number of cookies leftover for Lindsay = 10. No need to worry about the quantity of almond milk in the house.
Snickerdoodle Cookies
For Cookies
* 2 3/4 cups all-purpose flour
* 1/2 teaspoon salt
* 2 teaspoons baking powder
* 1 cup unsalted butter, room temperature
* 1 1/2 cups granulated white sugar
* 2 large eggs
* 1 teaspoon pure vanilla extract
For Coating
* 1/3 cup granulated white sugar
* 2 teaspoons ground cinnamon
Preheat oven to 400 degrees. Line two baking sheets with parchment paper.
In a large bowl whisk together the flour, salt, and baking powder. In the bowl of your electric mixer (or with a hand mixer), beat the butter and sugar until smooth. Add the eggs, one at a time, beating well after each addition. Beat in the vanilla extract. Add the flour mixture and beat until you have a smooth dough.
Shape the dough into 1 inch round balls. In a large shallow bowl mix together the sugar and cinnamon. Roll the balls of dough in the cinnamon sugar and place on the prepared pan, spacing about 2 inches apart. Then, using the bottom of a glass, gently flatten each cookie to about 1/2 inch thick. Bake the cookies for about 8 - 10 minutes, or until they are light golden brown around the edges.
S'mores Sandwich Cookies
Follow the Snickerdoodle Cookie instructions, but substitute roughly half of the flour mixture with crushed graham crackers. Make sure you round 1 inch balls, and only add the marshmallows and chocolate chips after the cookies have baked, otherwise you'll end up with with a flattened, gooey, unappetizing mess.
Peanut Butter and Jelly Cookies
For Cookies
* 1 cup all-purpose flour
* 3/4 teaspoon salt
* 1/2 teaspoon baking soda
* 2/3 cup creamy peanut butter
* 1 stick unsalted butter, softened
* 2/3 cup firmly packed brown sugar
* 2 large egg
* 1/2 teaspoon vanilla
For Coating
* 1/3 cup granulated sugar
* 3 tablespoons grape jelly
Preheat oven to 375°F. Line baking sheets with parchment paper.
In a bowl whisk together flour, salt, and baking soda. In another bowl whisk together peanut butter, butter, and brown sugar until smooth and whisk in egg and vanilla. Add flour mixture to peanut butter mixture, stirring until blended.
Roll pieces of dough into 1-inch balls and roll in granulated sugar. On a large baking sheet arrange balls 2 inches apart and bake in middle of oven 10 minutes. Working quickly, with the back of a 1/4-teaspoon measuring spoon make an indentation about 1/2 inch in diameter in center of each cookie. Fill each indentation with slightly heaping 1/4 teaspoon jelly and bake cookies 10 minutes more, or until golden. Transfer cookies to racks to cool.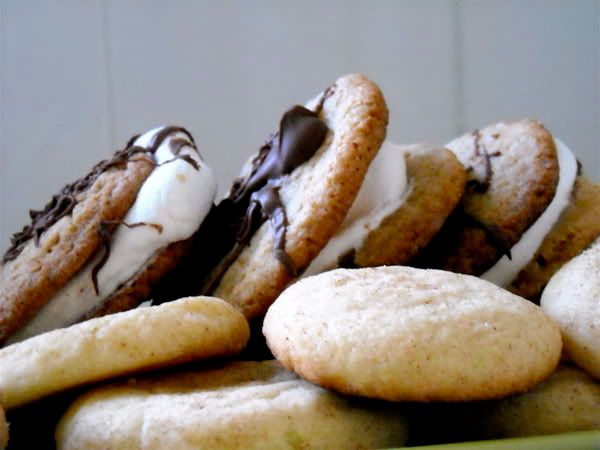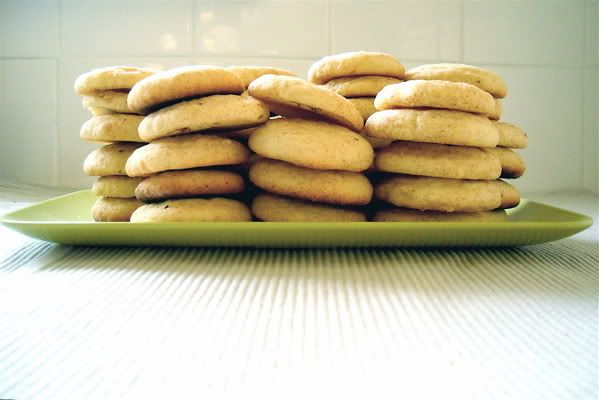 A picture worth a thousand noms. The snickerdoodles in particular are cookies par excellence: perfectly round, not too thick, bite-sized, airy, firm but moist... I could go on.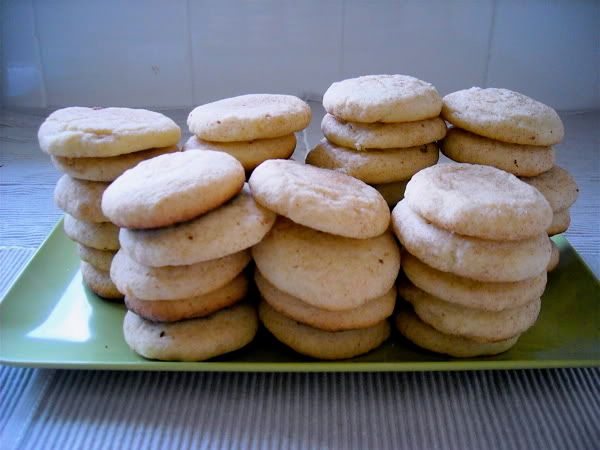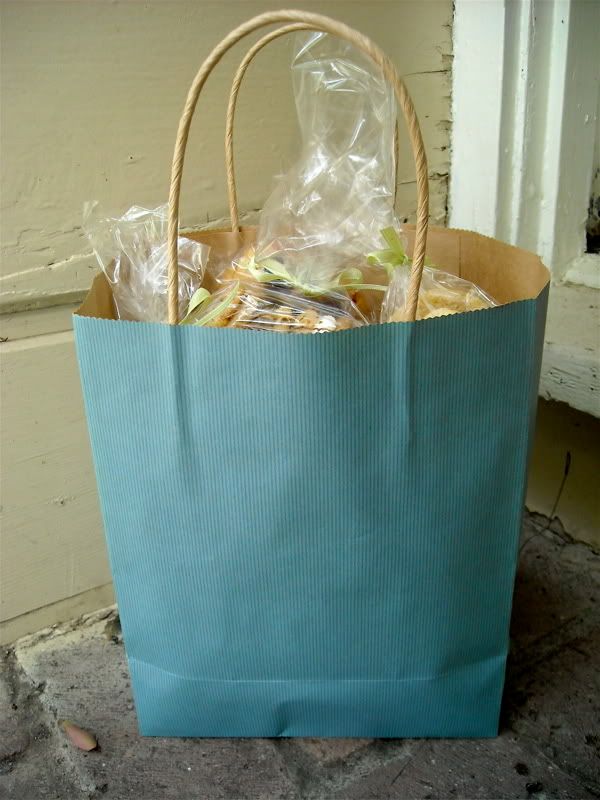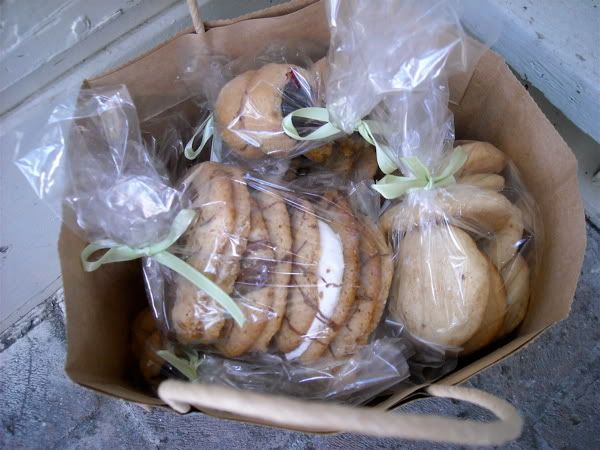 I need to get these mailed ASAP! There won't be any left to be sent if I keep this bag around.