After a lengthy self-imposed hiatus, I brought back Muffin Day! For those of you who have been following my weekly ritual since its inception back in 2006, you might be raising your eyebrows right now. "But Muffin Day is on
Wednesdays
, Lindsay!" Yes, yes, Dear Reader, I know. In truth, I did make this week's muffins yesterday. Unfortunately, I had to dash off to work to fix a major logic problem in one of the programs I'm working on, so I couldn't make the post. I figure it's better late than never, yes?
Without further adieu, I give you this week's Muffin. (Are you quivering in anticipation? I certainly was on Tuesday evening after I decided on the recipe I was to make the following day.)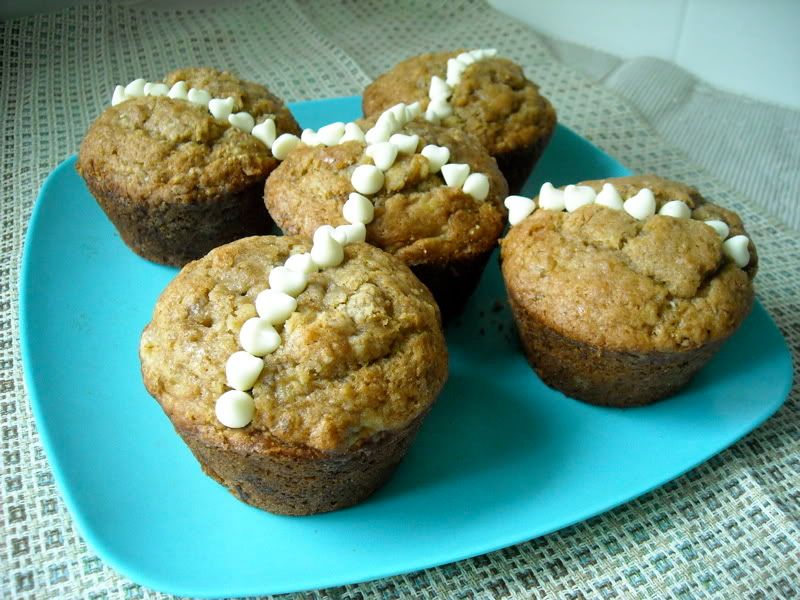 Banana Muffins with Almond Butter and White Chocolate Filling

* 1 3/4 cups all-purpose flour
* 1/2 cup granulated white sugar
* 1/4 cup light brown sugar
* 1 teaspoons baking powder
* 1/2 teaspoon baking soda
* 1/4 teaspoon salt
* 1/2 cup white chocolate
* 1/2 cup almond butter
* 2 large eggs, lightly beaten
* 8 tablespoons (1 stick) unsalted butter, melted and cooled
* 3 very ripe large bananas, mashed well (about 1-1/2 cups)
* 1 teaspoon pure vanilla extract
Special equipment: One 12 1/2 cup muffin tin (or one 6 one cup muffin tin), and a pastry bag of some kind to pipe your filling into.
Preheat oven to 350 degrees F (180 degrees C) and place the oven rack in the middle of the oven. Butter or spray a 12 - 1/2 cup muffin pan.
In a large bowl combine the flour, sugars, baking powder, baking soda, and salt. Set aside. Put the white chocolate in a microwave safe bowl and melt it in your microwave for 30 seconds to a minute; remove and stir in the 1/2 cup almond butter until the mixture is well blended and then place it in a pastry (or ziploc) bag.
In a medium-sized bowl combine the mashed bananas, eggs, melted butter, and vanilla. With a rubber spatula or wooden spoon, lightly fold the wet ingredients (banana mixture) into the dry ingredients until just combined and batter is thick and chunky. (The important thing is not to over mix the batter. You do not want it smooth. Over mixing the batter will yield tough, rubbery muffins.) Spoon the batter into the prepared muffin tins. Proceed to pipe the white chocolate-almond butter into the the center of the batter.
Bake about 20 - 25 minutes or until a toothpick inserted in the center comes out clean. Place on a wire rack to cool for five minutes and then remove muffins from pan. Serve warm or at room temperature. Garnish with white chocolate chips.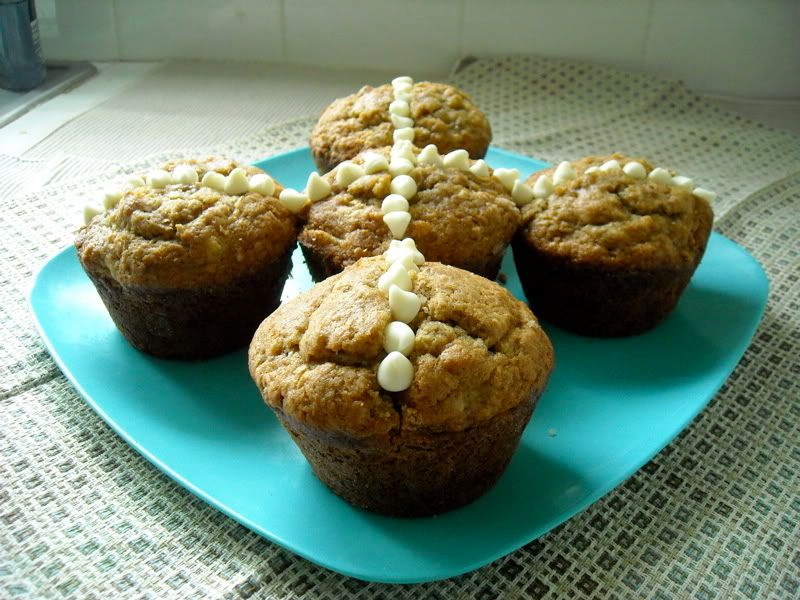 The chips formed a conga line on the muffin tops. Who am I to deny them the opportunity to rejoice at the return of my favorite day?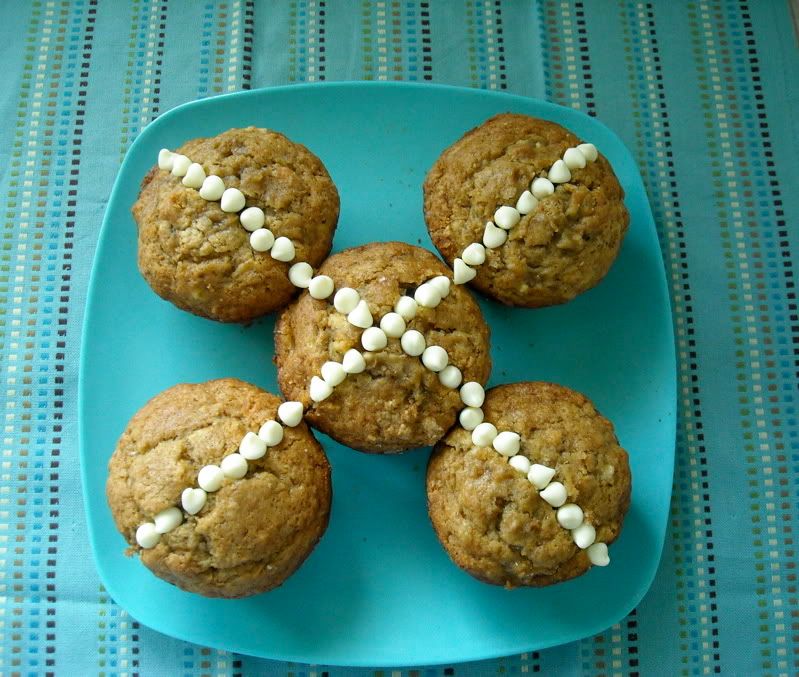 X marks the Spot where you'll find muffins.