My culinary arsenal has been expanding at a consistent rate since November. With new additions being added to my cabinets every week, I'm always tempted to play and experiment with the new, shiny toys over and over again. It's only been a day since I acquired the pixie muffin pans and condiment bottle from Sur la Table, and
I already broke them in
! Having the opportunity to experiment with a panoply of purchases is one of the many pros of living in a world where technology and innovation have made manufacturing so cheap. But much like repeating a new favorite song over and over again, there is an oversaturation point; a threshold where your interest in the gadget, pan or electric accessory is maxed out. And when you've grown bored with what was once your latest, best new accoutrement, it becomes so very easy to shelve it, forget about it, and go out and purchase the next best kitchen accessory. Then the cycle starts all over again.
I try to remain ever cognizant of what's in my kitchen and not to neglect the other items underneath my cabinet. If it's out of sight, it's usually out of mind for me; because of this, I make mental reminders to take my Maglite to my lower cupboards every once and a while. I don't want to be one of those people who invests hundred of thousands of dollars in kitchenware, only to rarely use it. I don't like to waste money.
It was while I was poking around in the depths of my lower all purpose pot, pan, and tupperware cupboard that I came across the 6 inch fluted tart tins I acquired in November for the purpose of making pumpkin
Jack-o-Latern tarlets
. They were sitting next to my 9 by 13 inch Pyrex baking dish. But unlike the dish, which saw a year's worth of usage during my
Nom-Continous 12 Days of Baking in December
alone, the tart tins had so far only been used once. I resolved to do something about this.
I love tarts! Well, I should clarify. I love the substratum of a tart (the crust) for the very same reasons why I love oatmeal, polenta, grits, waffles or other bland-tasting foods. It's a great foundational food item that allows us to to create a dish that's sweet or savory, hot or cold, small or large. So long as you have ingredients in your cupboard and refrigerator, the tart combination possibilities are practically endless! Making
pate brisee
can be a little bit daunting at first, but with each new attempt, it becomes easier and easier. I'm now skilled enough where I can roll the dough off the counter with my rolling pin and lay it into whatever tart pan I have nearby. That's a huge improvement from the days when I used to flip the ceramic dish
onto
the dough and cut out the tart that way.
It took me a combined two hours to come up with the ideas for three tarts you see below. Some inspiration came after I browsed through some of the savory dishes listed over at
Closet Cooking
, while the rest of the inspiration came after I took a quick gander at the contents of my fridge and let my mind wander for a little while. Then I went to the grocery store.
The tarts you see below are:
1.) Linguica-prosciutto-swiss with sauteed balsamic mushrooms;
2.) Caprese with mozzarella, parmesan, tomatoes, red onions, and basil;
3.) Pear tart with a ricotta-date-ginger-cinnamon base.
The recipes are more of a guide than directions. You can make all three variations, or just two. I was using a lot of leftover produce and meats, so I had just enough to make the combination of tarts listed in this post.
I first had Portuguese linguica this summer at
Oba in Portland
. Admittedly I was a little hesitant to try it at first because lingua in Spanish means tongue and I assumed that the Portuguese variation of the word wasn't that different. So basically I thought Mr. ProNerd and I were going to be eating tongue sausage. Though I've now eaten everything from beef heart to mussels to toro, I still don't like the taste of tongue. I can't even stand looking at it, really. *shudders* Well, no matter, as my assumption was an erroneous one. After nibbling those first few bits, linguica became the paragon of smoked sausages. I love the stuff. That, the mushrooms, parsley, swiss and ricotta cheeses, the pear, and basil are the ingredients I didn't initially have on hand.
Making the Pate Brisee
Follow the directions offered at
Joy of Baking
exactly as they are listed and allow the tarts to cool after they've baked. If you adhere to what the site says, you should have enough dough to fill one 10" tart, and six 6" tartlets. (OK; so you can deviate in one way and one way only: you may use uncooked rice if you don't have pie weights.)
While the dough is setting in the refrigerator, go ahead and make the balsamic mushrooms to go into the first tart.
Balsamic Mushrooms
* 2 tablespoons olive oil
* 2 shallots (chopped)
* 4 cloves garlic (chopped)
* 1 package of mushrooms (sliced)
* 1/4 cup balsamic vinegar (I used fig-infused because it was what I had on hand)
* 2 tablespoons parsley (chopped)
Melt the olive oil in a saute pan; add the shallots and saute until tender, about 3-5 minutes. Then add the garlic and saute until fragrant, about 1 minute. Add the mushrooms and saute the mushrooms until golden brown, about 15 minutes. Add the balsamic vinegar and simmer until the liquid has evaporated, about 8 minutes. Remove from the heat and season with salt and pepper and stir in the parsley.
A friendly note about mushrooms:
If you're looking for a lesson in the virtue of patience, cook mushrooms. They're temperamental little buggers who need high heat in order to be cooked properly. For this reason, it's recommended that you use oil as it doesn't burn as quickly as butter.
Please remember to:
1.) Use a mushroom brush or toothbrush to clean your 'shrooms (mushrooms absorb liquids rather easily, and pre-wet mushrooms are a disaster to cook with).
2.) Transfer the mushrooms to a paper bag after you've purchased them. Don't leave them in the styrofoam or plastic container they came in.
3.) Use them within three days.
Pear Tarts with Ricotta Date Cheese
* One package of part skim milk ricotta cheese (save the container)
* Five dates, pitted and chopped
* 1 teaspoon of cinnamon
* 1 teaspoon of ground ginger
* A handful of thin pear slices
* A drizzle of honey (optional)
In a small bowl, beat the ricotta cheese and date pieces using an electric mixture. After about three minutes of beating, add the cinnamon and ginger. Using a spatula, spread the ricotta mixture evenly over three tartlets. Fan the pear slices in any pattern you wish and then drizzle honey over the slices.
There will be enough spread for three more tarts, so either plan ahead to make six tartlets or reserve the remaining mixture in the ricotta cheese container. Be sure to use within a week.
After the crust has baked and cooled, the mushrooms have been cooked, and the ricotta cheese mixture has been made, it's now time to start assembling your tarts!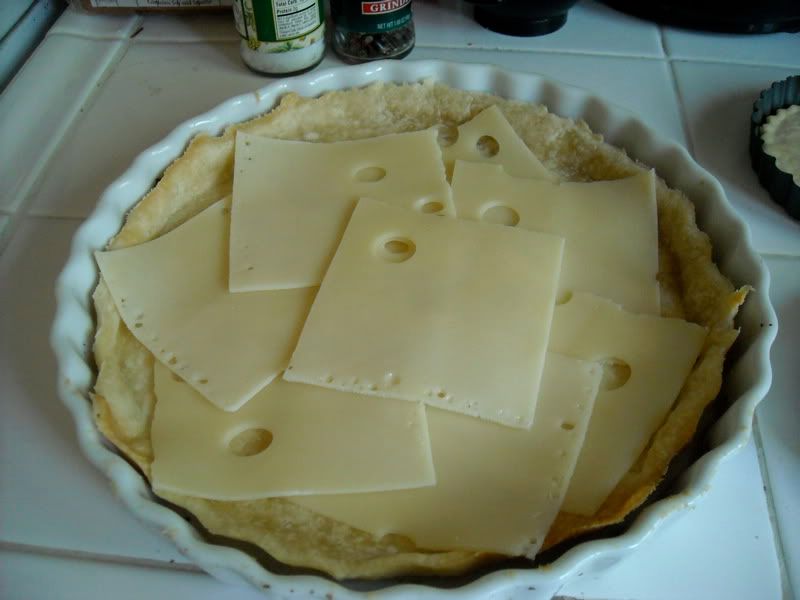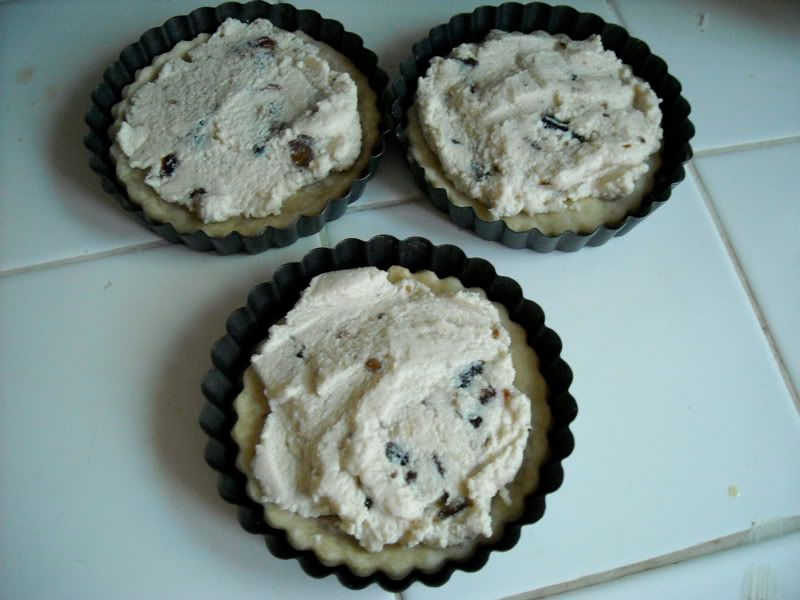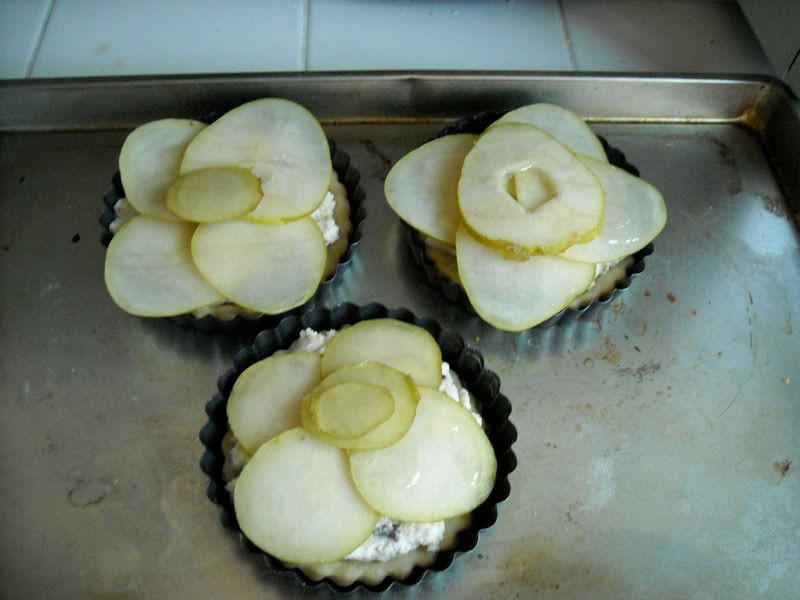 Make sure your oven is preheated to 350° and bake these guys for about 30 minutes.